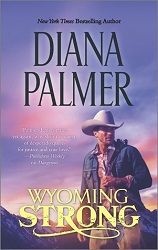 Title:
Wyoming Strong
Series:
Wyoming Men #4
Author:
Diana Palmer
Published:
October 28/14 by Harlequin HQN
Length:
336pgs
Format:
ecopy
Genre:
romantic suspense
Shelf:
Netgalley
Rating: ★★★
Back Cover Blurb:
New York Times
and
USA TODAY
bestselling author DIANA PALMER returns to Wyoming with a fiery new couple!
Wolf Patterson and Sara Brandon are arch enemies from ages ago, but mischievous fate has brought the tall rancher with the pale blue eyes together with the dark-haired beauty - on neighboring Wyoming ranches. At first, sparks fly, but despite Wolf's misguided notions about the spirited Sara and her indignance over the assorted injustices he has thrown her way, a truce - of sorts - forms. Suddenly Sara notices Wolf's face, while not conventionally handsome, draws her like no other man has ever attracted her. And Wolf sees into the compassionate soul that Sara hides from the rest of the world.
But they are two passionate people with a talent for falling out...can love find the space to take root on the stunning Wyoming plains?
My Review:
Palmer's vivid yet realistic and down to earth writing drew me in from the beginning. Her style and approachability allows you to enter this story and picture it quite easily. Palmer packs a great deal of controversy into this novel. Whether I fully agree with her ideas and take on it or not, she does make it believable and allows readers to see how it works for her characters. I will admit, however, the fact that this book is called Wyoming Strong and the bulk of it takes place in Texas did throw me for a loop. By the end of the story it all makes sense, but throughout I found myself questioning it repeatedly.
I had a love-hate relationship with these characters. There were parts of them that I loved and other parts that had me questioning their sanity, repeatedly. The tension, animosity and fireworks between the main characters jump off the page at you. You simply can't escape it and it makes their relationship feasible. The WoW and online gaming aspects of the main characters was a nice twist. I thoroughly enjoyed it, for the most part. The secrecy involved in something so trivial was a bit odd.
Overall this was a very enjoyable book. I personally found that it was missing that little something that made Palmer's other Wyoming books unforgettable, but it was still a good read in and of itself.