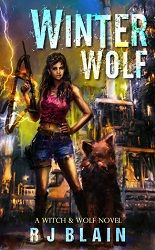 Title:
Winter Wolf
Series:
Witch & Wolf #2
Author:
R.J. Blain
Published:
November 24/14 by Pen & Page Publishing
Length:
361pgs
Format:
ecopy
Genre:
paranormal
Shelf:
review
Rating: ★★★★★
Back Cover Blurb:
The Hunted Wizard
When Nicole dabbled in the occult, she lost it all: Her voice, her family, and her name. Now on the run from the Inquisition, she must prove to herself—and the world—that not all wizards are too dangerous to let live.
The savage murder of a bookstore employee throws Nicole into the middle of Inquisition business, like it or not. Driven by her inability to save the young man's life, she decides to hunt the killer on her own. Using forbidden magic to investigate the past, she learns that the murderer is in fact a disease that could kill the entire werewolf race.
Forced to choose between saving lives and preserving her own, Nicole embraces the magic that sent her into exile. Without werewolves, the power of the Inquisition would dwindle, and she could live without being hunted.
Nicole's only hope for success lies in the hands of the werewolves she hates and the Inquisition she fears, but finding someone to trust is only the beginning of her problems. There are those who want to ensure that the werewolves go extinct and that the Inquisition falls.
But, if she fails to find a cure, her family—including her twin sister—will perish…
My Review:
I love Blain's larger than life descriptions. She brings the supernatural world into sharp focus for her audience while still allowing your imagination to soar. Readers can't help but picture both the scenery and the action in vivid detail. Her fun, approachable tone has a hint of tension in it, which builds the suspense of the story throughout. I appreciate how well written this novel is and how well thought out the storyline is. Blain kept me on my toes throughout with her plot twists, and kept me captivated with this intense story.
Blain's character development is fantastic. She drops you in the middle of this world, and then develops her characters bit by bit. I felt as if I was unraveling who everyone was as I was determining who did what. She doesn't simply tell you who is who and what they've done, but allows you to meet them and then get to know them gradually as if they were a new friend. This made me feel so much closer to the story.
This was most definitely a brilliant second novel in the Witch & Wolf series. Blain has created a wildly imaginative and larger than life story that will keep you hooked throughout.