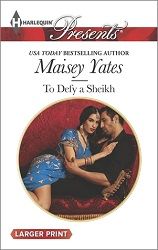 Title:
To Defy A Sheikh
Author:
Maisey Yates
Published:
October 21/14 by Harlequin
Length:
256pgs
Format:
ecopy
Genre:
Contemporary Romance
Shelf:
Netgalley
Rating: ★★★
Back Cover Blurb:
The cost of defiance
Princess Samarah Al-Azem knows you cannot rush revenge. Having bided her time, she's finally ready to bring down Ferran, her kingdom's enemy and the man who took everything from her. In the still of night, she lies in wait in his bedchamber….
It isn't the first time Sheikh Ferran has found himself at the edge of an assassin's blade…but never has it been wielded by such a beautiful assailant. Soon he has her at his mercy—something he's wanted for years!
Now Samarah must decide: imprisonment in a cell…or in diamond shackles as his wife.
My Review:
I love Yates' writing style. She never fails to drawn me in. This simultaneously unique and genre-specific storyline did keep my attention throughout. She develops the storyline and settings beautifully, allowing readers to picture each and every aspect of it.
Although the characters in this novel were quite well developed, the way in which Yates developed them made it difficult for me to really connect with and care about them. At times I felt as if I were caught up in a will-they-won't- they situation while at others I was attempting to unravel the relationship between the main characters. Their personal vendettas and pigheadedness (for lack of a better word) makes them stand out, and stand apart, from the rest of us. The dialogue between the characters was quite natural and had an easy and realistic flow to it. It was very well done.
This was a very well written and original novel. As much as I enjoyed Yates' writing style, I had trouble connecting with the characters.