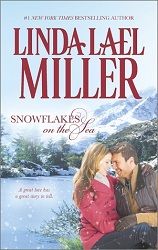 Title:
Snowflakes on the Sea
Author:
Linda Lael Miller
Published:
October 28/14 by Harlequin HQN (first published 1984)
Length:
368pgs
Format:
ecopy
Genre:
contemporary romance
Shelf:
Netgalley
Rating: ★★★
Back Cover Blurb:
Christmas 2014:
Nathan and Mallory McKendrick remember the troubles and triumphs they faced in the early days of their marriage. But their love story is far from over! It's a story they tell each other often…especially at Christmas.
Winter 1984:
International singing sensation Nathan McKendrick had it all—the looks, the talent, the charisma. It's not surprising that half the world was infatuated with him! No one more so than his wife, Mallory. The success of their marriage had always defied the odds—and the rumors. Then, suddenly, the bond between them was damaged, and Nathan and Mallory had to choose—fight for the love they still shared or let circumstances destroy it.
In the end, there was only one choice. They had to save their marriage.
And now, every year that goes by, every Christmas they spend together, reminds them that their love is everlasting…
My Review:
With this novel Miller doesn't look at the beginnings of a romance, but rather at a love that has stood the test of time. She puts pen to paper with her usual, impeccably well written style and tells a great story. That said, I almost felt as if Miller was trivializing certain aspects of this romance that I felt would have been important with emphasizing others that I found of little import. Perhaps it is our differing views on events such as these that made it hard for me to completely immerse myself in this story. I also found a lack of the excitement that I expect from one of Miller's stories. I did enjoy the novel, but I didn't find myself turning pages, dying to know what happened next.
The characters in this novel were quite well developed. I enjoyed the fact that we got to know the characters over a larger period of time. Their pasts and their present are both well developed for readers. The characters themselves are also quite unique. Their interactions with one another speak volumes as to their relationship and what they think and feel.
As a whole this was an enjoyable novel. It was a great look at romance that lasts.