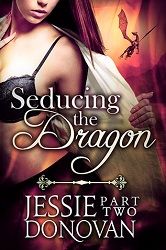 Title:
Seducing The Dragon part 2
Series:
Stonefire Dragons #6
Author:
Jessie Donovan
Published:
November 13/14
Length:
50pgs
Format:
ecopy
Genre:
paranormal romance
Shelf:
review
Rating: ★★★★★
Back Cover Blurb:
Evie Marshall discovers she has three days to convince Bram to trust her or he won't take her as his mate. Unable to forget their steamy kiss, she's determined to prove her usefulness not only for her safety, but also for another chance to kiss the sexy dragonman and become part of his clan.
Bram's dragon wants Evie, but refuses to say why. As Bram struggles with his inner beast, Evie reveals something about Caitriona Belmont's death that puts him on alert. The threat to his clan is more than just the dragon hunters; there is a danger from within.
14,500 words / 18+ / Explicit language and sexual situations / Cliffhanger
NOTE:
This is Part Two only and it ends on a cliffhanger. This is a serialized story and is NOT a complete book. Please read these installments in order. Thank you!
My Review:
This instalment was more intense and action packed that we've seen so far in the series. The intrigue that appears is very hard to overlook. I keep trying to unravel it. I also enjoy the tidbits about dragon shifter culture that are dropped throughout. I feel like I'm really getting to know the race. Top this off with the budding romance and the questionable mating and you have a winner. Not only that but we also get to know more about who the main characters really are as individuals. Donovan begins to peel off the façade that their jobs leave and reveal their true characters.
Even though I'm not a fan of serials in general, I love what Donovan is doing with this series. Each section is complete in and of itself while leading into the next. Sure, part 1 is necessary to get the full impact and enjoyment of part 2, but the readers aren't left dangling mid-scene at the end either. Donovan gives her readers short, fast paced, hot reads that are quite memorable.
As a whole this was a fantastic read that I couldn't put down. I can't wait to get back with Bram and Evie to see what they do next.