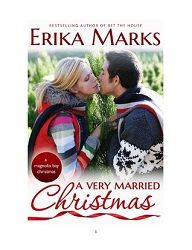 Title:
A Very Married Christmas
Series:
Southern Born Christmas #3
Author:
Erika Marks
Published:
November 3/14 by Tule Publishing
Length:
120pgs
Format:
ecopy
Genre:
contemporary romance
Shelf:
Netgalley
Rating: ★★★★
Back Cover Blurb:
Cookbook author Marley Chambers can't think of a more festive way to spend Christmas than at a friend's holiday wedding in her hometown of Magnolia Bay. If only her soon-to-be ex-husband, all-star pitcher, Beckett "Beck" Chambers wasn't bringing his new girlfriend—and if only he wasn't still the sexiest man to ever walk out onto the mound…

Beck never wanted the chaotic life of a sport star—especially not at the cost of his marriage to the only woman he's ever truly loved. But his career is a runaway train—and he's afraid it's too late to hit the brakes.

But when a mix-up leaves Beck and Marley stranded together for Christmas Eve on the barrier island where Beck proposed years before, old memories burn bright—and sparks fly hotter than a bonfire on the beach.

Could the magic of the season bring the gift of a second chance, just in time for Christmas?
My Review:
What a thoughtful & enjoyable novella for the season. Marks combines the conflicts of marriage with the extremes that come with publicity and high tension lives in a very fun and inviting manner. This novella brings love to the forefront in many little ways, reminding us that it's not always about the big gesture. Marks' upbeat & happy writing brings the spirit of the story right out of the pages. I thoroughly enjoyed this well put together novella that held my attention throughout.
The characters in this novel weren't overly developed. Their development centred around their relationship and their respective jobs. It was quite a unique take and worked well for the story at hand. As a reader you don't get caught up in the history and backstory and 'what-ifs' of the relationship. You enjoy a simple story about love and reconnection. The author also goes in with the assumption that readers have read other books from Magnolia Bay and have a basic understanding of the individuals and the town itself, lending to the ability to move the story forward well without losing anything.
This was a short & sweet Christmas story that made me wish for the relationship that these characters have.