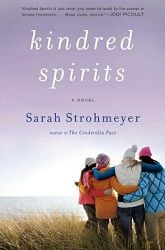 Title:
Kindred Spirits
Author:
Sarah Strohmeyer
Published:
October 1/11 by Recorded Books (June 30/11)
Length:
304pgs
Format:
audio book
Genre:
women`s lit
Shelf:
borrowed
Rating: ★★★★
Back Cover Blurb:
KINDRED SPIRITS. 3 friends reunite years later to carry out 4th friend's last wish - drinking pink cosmos along the way.
This book came from deep down and hard work. And it's in honor of my neighbor, Trish, who's been fighting cancer with such side splitting humor that we cracked up The chemo room. Women are awesome!
My Review:
This was an emotionally intense tale that had me in tears more than once. My heart kept breaking for the characters, but each time I thought I couldn't take any more the author brought me back with the hope and love displayed by the characters. It was also a unique and captivating tale that kept me coming back for more. Strohmeyer's tale was well put together, allowing readers to fully immerse themselves in the story. It was also very poignant and made me rethink a number of concepts. Strohmeyer's tact when dealing with some potentially controversial topics made that much easier.
I thoroughly enjoyed the characters in this novel. The 4 friends were so much fun that you can't help but love them. The journeys that they are on, both together and individually, make for some interesting events. Getting to know them all was a real treat.
The overall feeling that I had upon completion of this novel was one of contentment. Although shocked more than once throughout the novel, the conclusion was quite compelling. I'd recommend it to those who enjoy an emotional rollercoaster and who don't mind some rather controversial topics.