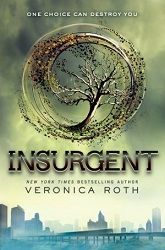 Title:
Insurgent
Series:
Divergent #2
Author:
Veronica Roth
Published:
May 1/12 by HarperCollins
Length:
525pgs
Format:
hardcover
Genre:
dystopian
Shelf:
bought
Rating: ★★★★★
Back Cover Blurb:
One choice can transform you—or it can destroy you. But every choice has consequences, and as unrest surges in the factions all around her, Tris Prior must continue trying to save those she loves—and herself—while grappling with haunting questions of grief and forgiveness, identity and loyalty, politics and love.
Tris's initiation day should have been marked by celebration and victory with her chosen faction; instead, the day ended with unspeakable horrors. War now looms as conflict between the factions and their ideologies grows. And in times of war, sides must be chosen, secrets will emerge, and choices will become even more irrevocable—and even more powerful. Transformed by her own decisions but also by haunting grief and guilt, radical new discoveries, and shifting relationships, Tris must fully embrace her Divergence, even if she does not know what she may lose by doing so.
My Review:
Roth's writing style is one that anyone can easily get lost in. She talks neither up at nor down to her audience. The natural flow of words is very inviting. Roth builds on the story that she began in Divergent and takes readers on a fast paced, exciting, and one of a kind ride. The plot twists and turns kept me on my toes throughout. Her low key yet very visual descriptions set me directly into this world alongside the characters. I felt like a participant rather than simply a reader.
I was blown away with the character development in this novel. We`d met many of the characters in the previous novel, but Roth continues to make them into such complex individuals. One cannot help but enjoy their company. Tough decisions are reached and loyalties are tested throughout. The interpersonal relationships between the characters are also remarkably well done. They are not necessarily easy, but they are very real.
Although the main characters in this novel are in their late teens, this story is about so much more than coming of age. The story and its characters are inviting to readers of all ages. I'd highly recommend it to those who enjoy dystopian novels. A word of warning, however. Do read the series in order or you'll most likely be rather confused.