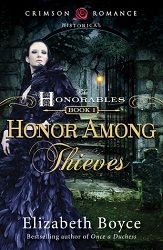 Title:
Honor Among Thieves
Series:
The Honorables #1
Author:
Elizabeth Boyce
Published:
October 27/14 by Crimson Romance
Length:
311pgs
Format:
ecopy
Genre:
historical romance
Shelf:
review
Rating: ★★★★★
Back Cover Blurb:
Grave robbing ain't no job for a lady…
To pay off her recently deceased brother's debts, however, Lorna Robbins must take drastic measures. When she happens upon a resurrectionist gang stealing his corpse, she does the unthinkable and joins the criminal outfit to save her family estate and her younger sibling. For the first time in her lonely, duty-driven life, Lorna finds herself leading a treacherous and exciting double existence. By day, she becomes a popular lady of the ton, relying on society gossip to help her body-snatching gang. By night, she becomes the grave robber known only as the Blackbird.
Surgeon and anatomy teacher Brandon Dewhurst relies on resurrectionists to bring him the specimens he needs to further his research on pregnancy. When his usual suppliers become unreliable, and then downright sinister, he's reluctantly drawn further into the black market. As Lorna and Brandon both target the same body—a pregnant woman who is still very much alive—they find themselves powerfully drawn together time and again while trying to maintain their own respectable facades. But this daring duo is courting danger, and romance is a complication neither can afford.
Don't miss this compelling first novel in a dark and dazzling new Regency series by bestselling author Elizabeth Boyce.
My Review:
What an absolutely fantastic novel! Boyce takes this rather chilling concept and turns it into the most fantastic story. The fun and approachable style in which the author writes this novel adds to the aura surrounding the story. Combine this with the unique and complicated trials that the characters face and you have a wonderfully complex tale. Boyce's descriptions make the scenes pop in a very vivid manner, firmly placing her readers smack in the middle of the tale.
The main characters in this novel are quite intricately crafted. I loved how many different levels there are to these two. Their secrets and doubts are just as important to who they are as are the things that they share with the public. I really enjoyed the fact that although they may not share everything about themselves with everyone else, they also aren't fake.
When it comes to the supporting cast, the unique and memorable character names will catch your attention and quite possibly make you giggle once, twice, or every time you read them. I love how she begins to develop The Honorables here as well, both as individuals and as a group. The story of how they came to be is quite enlightening, and really allows you some insight into who these characters are. The peak at the individual members of the group is great as well. I can't wait to meet them all in more depth throughout the series.
This story was gripping from beginning to end. It is the start to a fantastic series that I'm definitely looking forward to following.