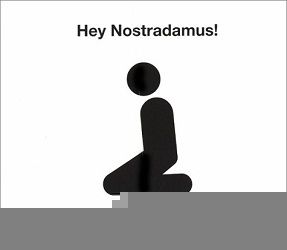 Title:
Hey Nostradamus!
Author:
Douglas Coupland
Published:
July 1/03 by HighBridge Company (1st published January 1/03)
Length:
405pgs
Format:
audio book
Genre:
contemporary fiction
Shelf:
borrowed
Rating: ★★★
Back Cover Blurb:
In 1988, a catastrophic episode of teen violence shatters a suburban community. HEY NOSTRADAMUS follows the aftermath in various voices across two decades: the teenage victims whose ordinary preoccupations with sex and spirituality will never evolve past that moment; the parents whose exposure to their children's underground world threatens their deepest convictions; and those who come to know the survivors only later in life, unable to fully realize what really transpired. HEY NOSTRADAMUS wrestles with religion and nihilism, sorrow and acceptance. It will take you to a place you didn't know existed.
My Review:
This is my first foray into the world of Coupland's writing. I quite enjoyed the story that he developed. The dark humour combined with the stark look at life and humanity to make an interesting and captivating read. There were times when I was utterly captivated with the story and others when I found the pace of the story lagged a bit. The large passage of time in the novel was quite well done. It was quite interesting to see how a single event affected 4 different individuals over the span of decades.
I 'read' the audio version of this one and loved the narrators. The 4 different narrators, one for each section, was brilliant. They really brought the characters to life in a real and vivid way. I did have an issue with the audio version I had. It was only 4 tracks. Any time I had to pause it for too long and the player reset I had to fast forward through 150+minutes of the track to find my spot. It made it rather difficult to stay immersed in the story at times (and was beyond frustrating when I hit the wrong button).
As a whole this was an enjoyable and unique tale that definitely made me think.