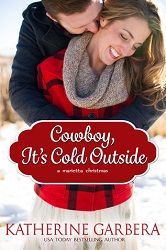 Title:
Cowboy, It's Cold Outside
Series:
Montana Born Christmas #4
Author:
Katherine Garbera
Published:
November 7/14 by Tule Publishing
Length:
102pgs
Format:
ecopy
Genre:
contemporary romance
Shelf:
Netgalley
Rating: ★★★★
Back Cover Blurb:
Photo journalist Trey Scott comes back to Marietta for Christmas, only to find no one home... except for the enchanting Lucy DeMarco. Although Lucy isn't crazy about the holidays, Trey does his best to restore her enthusiasm, starting with nestling her snug in his bed. But if he's only in town until New Year's...
My Review:
Garbera takes her audience to Montana for a unique & special Christmas. This charming story made me laugh more than once and definitely piqued my interest. Her down home writing style gives you a feel for this quiet country town while her descriptions transport you to the picturesque scenes. I will warn you that if you haven't read the other Montana Born Christmas novellas there may be some points that seem glossed over because of the missing context, but I found this story to be charming in and of itself.
I enjoyed getting to know a variety of characters, each with their own set of worries, yet still there for their family. It was a thoroughly enjoyable experience. Garbera doesn't just develop her characters, but invites you into their lives. Her main characters were also quite well developed. I appreciated the vast difference in their pasts yet the common goal they were working towards, even if they didn't always see that themselves.
As a whole, this was a quick, enjoyable novella. It's the perfect match for a cup of hot cocoa on a snowy day.