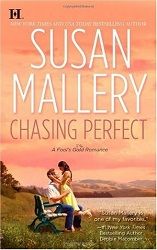 Title:
Chasing Perfect
Series:
Fool's Gold #1
Author:
Susan Mallery
Published:
April 27/10 by HQN
Length:
376pgs
Format:
paperback
Genre:
contemporary romance
Shelf:
bought
Rating: ★★★★★
Back Cover Blurb:
Welcome to Fool's Gold, California, a charming community in the foothills of the Sierra Nevada.
There's lots to do and plenty of people to meet, especially women. Because there's just one tiny problem in Fool's Gold: the men don't seem to stick around. Maybe it's the lure of big-city life, or maybe it's plain old bad luck, but regardless of the reason, the problem has to be fixed, fast. And Charity Jones may be just the city planner to do it.
Charity's nomadic childhood has left her itching to settle down, and she immediately falls in love with all the storybook town has to offer — everything, that is, except its sexiest and most famous resident, former world-class cyclist Josh Golden. With her long list of romantic disasters, she's not about to take a chance on another bad boy, even if everyone else thinks he's perfect just the way he is. But maybe that's just what he needs — someone who knows the value of his flaws. Someone who knows that he's just chasing perfect.
My Review:
I've previously red some of the later books in the Fool's Gold series but going back to the beginning to see how it all started has been absolutely unforgettable. This was a brilliant introduction to Fool's Gold. Readers get to know the town alongside its newest resident. Mallery's easy going yet absolutely captivating writing style melds with her unique yet realistic romance for a seamless whole. At the same time, plot twists abound, keeping you on your toes. I love the allusion to the next book at the end of this one. Getting a sneak peak at who's coming next both gave me a warm feeling inside & had me reaching for the next book. And Mallery did this all without revealing more than a pair of names.
Mallery's writing gets deep into the inner thoughts of her characters, giving readers an up close & personal look at things. Life is so real in Fool's Gold that you feel like you're living it right alongside them. Mallery introduces readers to an entire town, rather than simply the main characters in the novel, giving a sense of belonging to something so much bigger. And the main characters are absolutely phenomenal in their own right as well. The way in which they were developed in depth, their inner secrets revealed, was breathtaking.

Mallery has penned a story that will make you laugh & cry, sometimes at the same time. My suggestion for this one? Go Grab a blanket, curl up in front of the fire for a few hours and take an unforgettable trip to Fool's Gold inside the pages of this book.