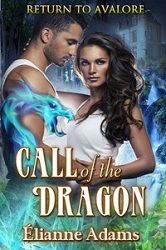 Title:
Call of the Dragon
Series:
Return to Avalore #1
Author:
Elianne Adams
Published:
November 7/14
Length:
Format:
ecopy
Genre:
fantasy/paranormal romance
Shelf:
Netgalley
Rating:
★★★★★
Back Cover Blurb:
Drake Sperwell has spent years searching for one woman, the Queen of Avalore. Time is running out. With the survival of their entire species hanging in the balance, failure is not an option. When he finds her deep in battle in New York City, all his prayers are answered. What he didn't count on was his reaction to the woman, or his dragon's need to claim her as its mate. Denying their chemistry might just kill him, but she's off limits. Her destiny lies with her true mate in Avalore.
Rhia Atkinson is a woman on the run. The same vicious creatures that killed her mother four years ago are still on the hunt, and she's the prey. She thought she'd come to terms with her solitary existence until Drake comes along, reigniting her dreams of family and belonging. His tall tales of a missing queen and the looming extinction of a race of people she never knew existed has her agreeing to go to Avalore. Traditions as old as time stand in her way as she tries to convince Drake that he's her choice for a mate. With the enemy breathing down her neck, all she has to do is figure out a way to make it work before she ends up joined to some stranger.
My Review:
I really enjoyed this author's writing style. I can't quite describe it, but it definitely worked for me and for this story. She had me completely captivated. Adams has also created her own, enchanting mythology that was both unique and exciting. Getting to know this world and its people was a real treat. This well written story combines heat with romance, excitement with suspense, and reality with fantasy. It's a perfectly heady mix that I couldn't put down.
I fell in love with the male lead in this novel right from the very beginning. Not only is he well developed and swoon-worthy, but his struggles (both internal and external) make him very personable. I also enjoyed the female lead. Her reliance on her instincts combined with her strength and strong sense of self-worth really allow her to stand up alongside her counterpart. The past and present collide for these characters, providing them with a whole new future. I also enjoyed getting to know a bit about the rest of the characters in the novel. The way that they come together as a family and as a community was heartwarming.
This exciting and action packed story is one that will stand out. I can't wait to read more from this series & this author.