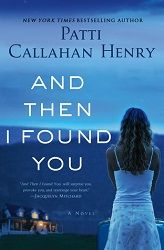 Title:
And Then I Found You
Author:
Patti Callahan Henry
Published:
April 9/13 by St. Martin's Press
Length:
261pgs
Format:
paperback
Genre:
Women's Fiction
Shelf:
giveaway
Rating: ★★
Back Cover Blurb:
Kate Vaughan is no stranger to tough choices.
She's made them before. Now it's time to do it again.
Kate has a secret, something tucked away in her past. And she's getting on with her life. Her business is thriving. She has a strong relationship with her family, and a devoted boyfriend whom she wants to love with all her heart. If Kate had ever made a list, Rowan would fill the imagined boxes of a perfect mate. But she wants more than the perfect on paper relationship; she wants a real and imperfect love. That's why, when Kate discovers the small velvet box hidden in Rowan's drawer, she panics.
It always happens this way. Just when Kate thinks she can love, just when she believes she can conquer the fear, she's filled with dread. And she wants more than anything to make this feeling go away. But how?
When the mistakes have been made and the running is over, it's time to face the truth. Kate knows this. She understands that a woman can never undo what can never be undone. Yet, for the first time in her life she also knows that she won't fully love until she confronts those from her past. It's time to act.
Can she do it? Can she travel to the place where it all began, to the one who shares her secret? Can the lost ever become found?
And Then I Found You
gives new life to the phrase "inspired by a true story." By travelling back to a painful time in her own family's history, author Patti Callahan Henry explores the limits of courage, and the price of a selfless act.
My Review:
This is definitely a novel that took me quite a while to get into. It took quite a while to warm up to the story & to the characters. The storyline seemed a bit all over the place with respect to pace. We'd rush forwards, and then slow down.
I fully admit that when it comes to editing, I understand a misplaced or misused word here and there. It's bound to happen as we're all human. But it can definitely go to excess. There were a few too many instances of this, or lack of fact checking that detracted from the story for me. I had a difficult time staying immersed in the story because of this, and had to put it down and come back to it more than once. This was expounded by the fact that I actually quite enjoyed this author's writing style. It had an easy to read flow, and then I'd run into something that just didn't jive at all.
The characters in this novel were fairly well developed. I felt like I really got to know them well. It was interesting to see their takes on the variety of different things. I did find the main character to be rather annoyingly indecisive at times. Her rationale seemed a bit flawed to me, but the author did explain why it was so.
As a whole this was a decent story but definitely could have used some further editing for content & flow.