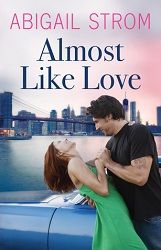 Title:
Almost Like Love
Author:
Abigail Strom
Published:
October 28/14 by Montlake Romance
Length:
224pgs
Format:
ecopy
Genre:
contemporary romance
Shelf:
review
Rating:
★★★★
Back Cover Blurb:
Television writer Kate Meredith is having the day from hell. First, her show was canceled. Then her fiance left her for another woman. Now, she's courting disaster by flirting with the hard-bodied, tattooed, motorcycle-riding bad boy of her dreams - who also happens to be the man who fired her.
If people had told Ian Hart that he'd be firing Kate in the morning and dancing with her that night, he'd have laughed in their faces. Despite her leggy body, the sweet but geeky redhead isn't his type. At least, that's what he thinks before spotting her in a club wearing an outfit that reveals her surprisingly delectable assets.
Before he knows it, Ian becomes Kate's knight on a shining motorcycle, escorting her home to prevent her from running off with some random guy. But when the night is over, "Little Miss Boring" and her sexy former boss just might turn their oh-so-wrong feelings into something very right.
My Review:
I quite enjoyed Strom's writing style. It was fun, light, and easy to lose myself in. At the same time, it meshed perfectly with her original and catchy storyline. She combines comedy with romance in a way that will leave you with a definite smile on your face.
I couldn't help but fall in love with the female lead right from the first page. Fate threw her a series of curve-balls all at once, and she fought to come out on top. Her reactions were genuine, really allowing readers to get to know her. Even when I didn't agree with her decisions or felt she was being a push-over, I still enjoyed her. The male lead was quite enigmatic. His multi-faceted persona had me intrigued. Top this up with a surprisingly inviting supporting cast and you have quite the story.
Overall, I really enjoyed reading this novel. I will definitely be looking further into Strom's work in the future.