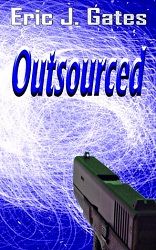 Title:
Outsourced
Author:
Eric J. Gates
Published:
September 18/14 by Amazon
Length:
302pgs
Format:
ecopy
Genre:
thriller
Shelf:
review
Rating:
★★★★★
Synopsis from Goodreads:
What's the most dangerous gift a fan could send to an author?
And if that fan was a professional assassin?
New York-based writer Nic Stiles receives a strange package in the mail. It's not long before he realises what it represents will change his life... with deadly consequences. Others want the package's contents too, including a high-tech Intelligence agency who will stop at nothing to obtain it.
...and the sender wants it back!
The new fast-paced SUSPENSE THRILLER from Eric J. Gates will make YOU question your Destiny!
My Review:
As we've come to expect from Gates' work, this story is complex and multifaceted. Readers are taken on an intricate journey through this one of a kind plot without ever looking back. Gates brings the world that he creates to life in vivid clarity, allowing readers to picture each aspect of the tale without curbing their imagination. The unique concepts not only catch your attention but are fully developed, allowing you to join in with the characters in their plight. The suspense carries through the tale, keeping you on your toes to the very last chapter. He had me guessing throughout, but was always a step ahead of me.
Gates' in depth characters will leave you breathless. Not only do you get to know them well, but you can identify with them. I found myself firmly placed by the side of the main character, racing through this tale. There was, of course, individuals that I didn't personally like as people, but Gates set up the characters in such a way that I could always see where they were coming from and how their past and present affected who they are.
This isn't a light, easy read. It will definitely take more than one sitting, but you'll be thinking about it throughout. That's one of the things I like best about Gates' writing. His story is intense and thought provoking, taking storytelling to another level.