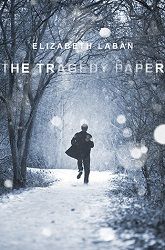 Title:
The Tragedy Paper
Author:
Elizabeth LaBan
Published:
January 8/13 by Knopf Books For Young Readers
Length:
312pgs
Format:
hard cover
Genre:
YA
Shelf:
giveaway
Rating:
★★★
Synopsis from Goodreads:
Tim Macbeth, a seventeen-year-old albino and a recent transfer to the prestigious Irving School, where the motto is "Enter here to be and find a friend." A friend is the last thing Tim expects or wants—he just hopes to get through his senior year unnoticed. Yet, despite his efforts to blend into the background, he finds himself falling for the quintessential "It" girl, Vanessa Sheller, girlfriend of Irving's most popular boy. To Tim's surprise, Vanessa is into him, too, but she can kiss her social status goodbye if anyone ever finds out. Tim and Vanessa begin a clandestine romance, but looming over them is the Tragedy Paper, Irving's version of a senior year thesis, assigned by the school's least forgiving teacher.
Jumping between viewpoints of the love-struck Tim and Duncan, a current senior about to uncover the truth of Tim and Vanessa, The Tragedy Paper is a compelling tale of forbidden love and the lengths people will go to keep their love.
My Review:
This novel was something of an anomaly for me. LaBan drew me in with her unique and well thought out storyline, but lost me with her characters (more on this in a moment). Her well-developed yet subtle descriptions allow this world to unfold before you. The intertwining storylines definitely give you something to think about. Also, the sense of suspense and mystery really drew me to this story. It kept drawing me back, needing to know what started it all. It was like the silence after a snowstorm.
I personally would have enjoyed more characters development in this novel. LaBan gets off to a good start, but once we know the basics about the characters we find out little else. This is the type of story that needs well developed 3D characters to carry it forwards. Without that, the sense of tragedy becomes somewhat light.
As a whole, this novel was enjoyable but I just couldn`t quite connect with the characters.