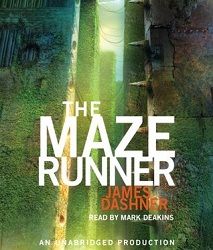 Title:
The Maze Runner
Series:
The Maze Runner #1
Author:
James Dashner
Published:
October 6/09 by Listening Library (1st published January 2009)
Length:
375pgs
Format:
audio book
Genre:
YA Dystopian
Shelf:
borrowed
Rating:
★★★★
Synopsis from Goodreads:
"If you ain't scared, you ain't human."
When Thomas wakes up in the lift, the only thing he can remember is his name. He's surrounded by strangers--boys whose memories are also gone.
Outside the towering stone walls that surround the Glade is a limitless, ever-changing maze. It's the only way out--and no one's ever made it through alive.
Then a girl arrives. The first girl ever. And the message she delivers is terrifying.
My Review:
This novel was so much more in depth than I'd expected. It was absolutely chilling in the prospects for humanity that it reveals. The author presents humanity at its worst as well as at its best. Readers are struck with a sense of hopelessness, but yet hope is in the characters themselves. Dashner leaves you with a sense of completion along with a definite question of 'well, what now?' I found myself wanting to reach for the next book in the series right away just to see what happened.
I quite enjoyed the characters in this novel. Although readers get to know a definite 'main character' there is a group of individuals who are indispensible to the story's forward movement. Dashner develops each in such a manner that you can easily see what they contribute to the society as well as how they feel about that.
As a whole this is a novel that will be enjoyed by teens and adults alike. It's a shocking look at what could happen.