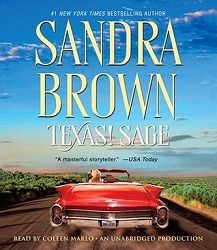 Title:
Texas! Sage
Series:
Texas! Tyler Family Saga #3
Author:
Sandra Brown
Published:
December 28/10 by Books on Tape (1st published 1991)
Length:
352pgs
Format:
audio book
Genre:
contemporary romance
Shelf:
borrowed
Rating:
★★★★
Synopsis from Goodreads:
In the dramatic finale of #1
New York Times
bestselling author Sandra Brown's popular Texas! trilogy, the headstrong youngest daughter of the Tyler family finally steps out of the shadows cast by her two older brothers. But forging her own path will take every ounce of savvy in Sage Tyler's possession.
The youngest heir to her family's oil fortune, Sage has always been the unbridled spitfire in the Tyler clan. Now, fresh out of college, she's looking to settle down at last with her safe, upper-crust fiancé. Then into her life saunters Harlan Boyd, a rootless drifter recently hired for a Tyler Drilling Company project. Harlan's just the sort of man Sage should avoid, but there's something irresistible about the laconic cowboy that intrigues her.
When a financial crisis threatens to wreck Tyler Drilling for good, Sage and Harlan must channel their simmering chemistry into the task of saving the family business. But can she trust a man who shares her maverick spirit—and harbors long-held secrets of his own?
My Review:
This was definitely a one of a kind story. Brown combines work, home, and romance in a seamless manner to present a realistic view of life. The intricate plot combined with the twists and turns of fate kept me hooked throughout. I will admit that there were a few times when I stopped and said 'hunh? Really?' then remembered that this novel was originally published in 1991. Keeping in mind that technology, etc has changed drastically in the past 20+ years this was a fantastic story.
Sage really comes into her own as a character in this instalment of the series. There were more than a few times where I wanted to have a chat with Sage and tell her not to look a gift horse in the mouth. Yes, she is who she is, but at times she takes it almost too far. However, Brown has developed her character in such a way that it's easy to understand and empathize with her. Match her with an alpha type, very caring male lead and you have a fantastic couple to get to know.
Overall, this was a comically enjoyable read. It wrapped up the Tyler! Family saga nicely.