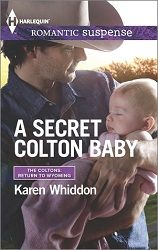 Title:
A Secret Colton Baby
Series:
The Coltons: Return to Wyoming #1
Author:
Karen Whiddon
Published:
October 7/14 by Harelquin
Length:
288pgs
Format:
ecopy
Genre:
romantic suspense
Shelf:
netgalley
Rating:
★★★★
Synopsis from Goodreads:
A new addition to Wyoming's most scandalous family
Is Theo Colton the father of a baby dropped at his doorstep by a dying socialite? Even more shocked than the sexy bronc-riding champ is his beautiful cook, Ellie Parker. Just as she becomes the baby's nanny, she discovers a terrifying stalker has followed her to Dead River.
What's worse--as a mysterious virus quarantines the town, danger goes viral, too. But to Theo and Ellie, the biggest dangers are their sizzling attraction and profound new feelings. Can Ellie tame the cowboy who wants nothing more than a wild ride with women? Or must she deny her heart to save his life?
My Review:
This suspense in this novel runs from the first sentence right to the very end. Whiddon had my attention throughout and wouldn't let go. Under this she mixes comedy with a will they/won't they romance that will make you laugh and cringe in turn. She brings the Colton's ranch to life in a vivid and memorable way that really draws you to it. Some of the events and scenarios were hilariously precious, others were chilling and shocking, yet all were easy to believe and easy to picture.
Whiddon definitely captured my heart with her cast of characters. They were real individuals with real lives and all that went with it. I appreciated the fact that both of the main characters were struggling with things that were beyond what we'd normally deal with on a daily basis, but that these things were also plausible and realistic. I may also have wanted to tell a certain rodeo cowboy cum rancher to get over himself a couple of times, but when a man's ego is bruised… Not only were the characters unique and loveable personalities, everyone was so well developed that I felt like I'd been invited into the family itself.
As a whole this was a fantastic story that starts Whiddon's new series off on the right foot. It's perfect for anyone who enjoys suspense, romance, and a healthy helping of cowboys.