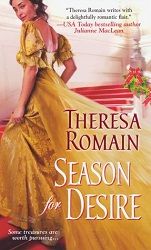 Title: Season For Desire
Series: Holiday Pleasures #4
Author: Theresa Romain
Published: October 7/14 by Zebra
Length: 320pgs
Format: ecopy
Genre: historical romance
Shelf: netgalley
Synopsis from Goodreads:
Properly Wicked
Like her four sisters, Lady Audrina Bradleigh is expected to marry a duke, lead fashion, and behave with propriety. Consequently, Audrina pursues mischief with gusto, attending scandalous parties and indulging in illicit affairs. But when an erstwhile lover threatens to ruin her reputation, Audrina has no choice but to find a respectable husband at once.
Who would guess that her search would lead her to Giles Rutherford, a blunt-spoken American on a treasure hunt of his own? When a Christmas snowstorm strands the pair at a country inn, more secrets are traded than gifts—along with kisses that require no mistletoe—and Audrina discovers even proper gentlemen have their wicked side…
My Review:
Romain's thoughtful, eloquent writing style sets readers up to be drawn back in time with this fantastic story. This author paints a brilliant picture of the world surrounding her characters, taking readers on a journey across England. This was an exciting and adventurous story. Romain really had me thinking and trying to figure out the riddle. I had so much fun with this. It all played right in to the romance and intrinsically close-knit aura of the novel.
Romain has some quite intricate character development in this novel. I loved how well we got to know not only the main characters, but their immediate family and friends as well. The pace of this novel does slow down a bit when the author goes into background information on the characters. It is pertinent to the story at hand and is quite interesting but there is a definite shift in the pace of the story when she does this. It's almost as if you're having a one on one moment with the character in question. It was quite unique.
This was a very intriguing look at the lives and relationships of Romain's main characters that can easily be read as a standalone, even though it is the 4th novel in the series. It was a very enjoyable novel that I wouldn't hesitate to recommend to others.