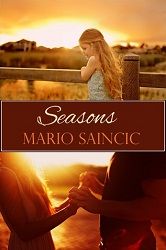 Title:
Seasons
Series:
Mario Saincic
Published:
December 25/13
Length:
269pgs
Format:
ecopy
Genre:
contemporary romance
Shelf:
review
Rating:
★★★★★
Synopsis from Goodreads:
Jessica Baxter leaves the city of Ft. Worth behind and accepts an offer to work on a wine farm on the Italian island of Sardinia. Excited at the prospect, she doesn't expect to get stranded on her first day. Her life takes a peculiar turn when a British architect reluctantly offers to help.

Graeme Di Marco moved from the glamour of London in search of a peaceful life for his family. Soon after he arrives on the island, tragedy strikes and he ends up raising a high spirited six-year-old by himself. Not only is the guilt he carries for his wife's death all consuming, he now has to put up with an American that's full of sass.

Graeme and Jess battle to get along, but little do they know that his father and daughter are playing cupid behind the scenes. Nastassja, the little girl, sprinkles her magic and the two of them soon fall in love; but will the memory of his loss drive them apart?

Seasons is a story about finding love when you least expect it. Pain fades, but how long does it take for a tear to dry?
My Review:
Not only did I read this novel in a single day, I did so in a single sitting. It was fantastic. I love this author's voice. It is approachable yet polished, eloquent without being flowery. The style also suits the storyline perfectly. The novel was touching and romantic without becoming sappy. It was the best of all worlds. Saincic also develops his settings and scenery perfectly. He is a very visual writer who actively invites his audience into the story.
Saincic's well-developed and well-rounded characters are easy to relate to. I couldn't help but feel for, and with, them throughout. My favourite part of these characters is how they portray real emotions thrnoughout. They are approachable and entirely believable. Saincic has created the type of characters that stay with you long after the novel is over.
This novel is emotionally resonative and creatively unique. It was a fantastic introduction to Saincic's work and I'll definitely be watching him closely in the future.
And now, enter to win 1 of 5 ecopies of Seasons by Mario Saincic.
prc & pdf formats available
Giveaway is open to Internationally (where applicable by law)
Entries are open from now until 11:59pm EST Oct 22/14.
Winners will be drawn & notified via email on Oct 23/14.
Winners will have 72hrs to claim their prize or another winner will be drawn.