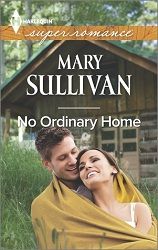 Before we get started today you all get to spend a bit of time with author Mary Sullivan.
Building Sexual Tension
Jonel, thank you so much for having me here today!
I'd like to share my method for building sexual tension into a story. I don't like to use sex scenes as a substitute for plot or character development, or as filler, so I dig deeply to set up the tension that will eventually lead to a satisfying sexual conclusion that makes sense within the context of the story.
In my October Superromance, NO ORDINARY HOME, the challenge was that the characters are so different from each other. The hero, Austin, is a straightforward, salt-of-the-earth deputy sheriff in my fictional small town of Ordinary, Montana. The heroine, Gracie, is a down-on-her-luck drifter. What could they possibly see in each other?
Before even considering building in sexual tension, I had to build up their characters, to make them attractive to each other in more than just a physical sense, although there is plenty of that, too! So, I deepened the physical attraction with character. Gracie comes to appreciate how trustworthy Austin is. It has been a long time since she has had anyone in her life on whom she could depend, and trust without reservation. Austin learns that, beneath Gracie's rough and tough shell, resides a woman who is kind to her core. Life has not managed to beat that kindness out of her.
I tried to emphasize the things that were missing in themselves that they saw in each other.
Austin has given Gracie a few meals, which strains her staunchly independent spirit. Taking anything from anyone does not come to her easily. The only way she can repay him is by giving him a haircut.
She approached uneasily, regretting now that she'd offered to do this. In her need to pay him back, she hadn't realized this could be dangerous to her.
Touch. Six years of deprivation. She'd been starving. She craved touch. Had known too little of it, even before she'd run away.
She settled the towel across his back and broad, muscled shoulders. The warmth of his body seeped into her through the slightest touch.
Good-looking, fit, generous, decent. The man was perfect in every way, or would have been in another time, under different circumstances.
Guard your heart, Gracie.
Later, Gracie is leaving Austin because she has some money coming to her. She has needed Austin to drive her as far as Denver to get to a bank. They are saying goodbye and she is finding it far, far more difficult than it should be. The man is, after all, a relative stranger.
"I guess this is goodbye," he said and grasped her hand in his much larger one, engulfing her fingers with his calm, sure strength.
Why did she feel like crying, as if maybe she was walking away from the best man she would ever know? Certainly, he'd treated her well, but so had others. Some others. Not all. Not many.
Holy mac and cheese, how could a handshake be so devastating?
He tugged, gently, and she yearned forward. He leaned close, closer, his breath a caress on her cheek. Then his lips were on hers, warm and tender and firm.
In his kiss was the heat of summer, the shimmer of sheet lightning, the earthiness of morning dew.
His palm cradled her cheek, his thumb and forefinger angled her chin where he wanted her. His tongue played hide-and-seek with hers, so sweetly.
A dangerous kiss, it whispered intimate promises to her naïve daydreaming heart, promises that would hurt when they weren't fulfilled.
She slid her lips and hand from Austin's, slowly, memorizing the feel of him, to take out one month, one year, one decade from now when she was living alone and hiding from the world, and feeling the lack of love in her life. She almost certainly would live alone. In the future, how could she ever find another man as good as Austin? She would need a memory to sustain her, like this, of him.
In the end, there was only one thing to do. Walk away.
Things don't work out for her in Denver. Fortunately, Austin is around to help her pick up the pieces.
Gracie grew up as a child star. She came to understand that most people gave her affection and attention because of her fame rather than the person she was inside. Everyone wanted something from her. The only one who loved her purely was her grandmother who died a long time ago. Gracie loves helping senior citizens. On her travels, she stops regularly at senior's and nursing homes, where she spends hours giving free manicures and pedicures and singing classic songs they all love. It is a labor of love for her, in memory of her gran.
After one such visit, Austin comes to pick her up.
She turned to find Austin in the doorway watching her.
Yes, she wanted to say, there are people who like me and who would want to see me again, for myself. Here she was neither a movie star nor a charity case, but just Gracie Travers, a woman who treated them well, who helped take care of their bodies and who bolstered their spirits with her songs.
In Austin's eyes, she saw admiration reflected, as though what others thought of her rubbed off on him, but she didn't want that. She wanted him to see who she was of his own accord, and like who he saw. Her. Just her.
She eventually leaves Austin again to set out on her own, to find a way to live the rest of her life without the money she thought would be available as a lifeline. Her relationship with him is a lopsided affair as long as she feels like a charity case, so she will have to find a way to make a permanent life for herself somewhere.
The first night she leaves Austin, though, she gets into trouble. In the past, she has managed to fight off anyone trying to take advantage of a woman alone, but not this time. The man is both drunk and high, which gives him an unnatural strength. Über-responsible Austin has followed Gracie to ensure her safety. He saves her and takes her back to his hotel room where she will be safe. After the brutality of the attack and Austin's anger with Gracie for being, in his eyes, too independent, I strove to find a way to turn the truly ugly tension of that conflict in a different direction.
"What are you doing?" she whispered.
"I'm going to kiss you."


"Because I have to do something or I'll yell this place down. You frustrate me, woman."
"Woman? You sound like a caveman. I have a name."
"Quiet. You talk too much."
Before she could protest, his lips were on hers, seeking and demanding.
Gracie felt his kiss to her toes, felt it everywhere, as though bubbles were dancing in her stomach and diminutive fairies were jumping for joy in her brain.
More, they shouted. Give us more. They danced jigs. They threw fairy dust into her bloodstream.
When he pulled back, she said, "I don't talk too much."
"You do." He kissed her again. Just what she wanted.
The fairies whooped and danced some more. The fairy dust in her blood floated and twirled. The fairies sang love songs. "A kiss is just a kiss," she told herself.
Not this one. This was THE kiss, the one that would go down in every history written from this point on, in the annals of romance, as the best kiss ever.
Austin drew away and Gracie sighed. He knew his way around a woman's lips. "You've been practicing."
He picked up his shaving kit and dropped it into this bag then walked toward the door.
"Going to get a room of my own. I can't stay with you tonight." He walked out of the room.
His rejection stunned her. It shouldn't hurt. It did.
Fine. She didn't want sex with him, anyway. Truly.
The fairies disagreed. They pouted, railing against the unfairness of life that they should be left excited and eager and wanting, while Austin had apparently felt nothing. They crossed their little arms and stomped their tiny feet.
Holy Hannah, how was she supposed to sleep tonight?
It was still quite a few scenes later before they make love for the first time and, even then, there is a bit of twist to shake up the reader, but I hope all of this set-up managed to create enough tension to make the reader as happy to finally reach the sexual consummation of the relationship as the hero and heroine were!
About the author:
Mary Sullivan grew up amid the cultural pop and fizz of an urban cosmopolitan center. Despite this, she writes about small fictional towns in Montana and Colorado, and populates her stories with cowboys and ranchers. After she discovered Harlequin Superromances, she knew she wanted to write her own heartfelt stories of love, hope, relationships and happy endings. Harlequin published her first novel in 2009. The Ordinary, Montana, series has won both awards and great reviews. Her eleventh Superromance, No Ordinary Home, comes out in October of 2014.
She will be teaching a romance novel-writing workshop at Inspire! The International Book Fair in Toronto on Sunday, November 16/14.
http://www.torontobookfair.ca/programming/workshops/#!mg_ld=1732
She loves to hear from readers! Connect with her via her
website
,
Facebook
, or Twitter: @MSullivanWrites.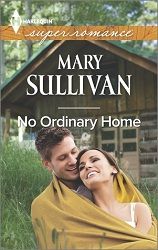 Title:
No Ordinary Home
Author:
Mary Sullivan
Published:
October 7/14 by Harlequin
Length:
384pgs
Format:
paperback
Genre:
contemporary romance
Shelf:
review
Rating:
★★★★★+
Synopsis from Goodreads:
She's not who she seems...
Gracie Travers has a secret. She's not the down-on-her-luck drifter she appears to be. Once America's sweetheart, Gracie needs to keep below the paparazzi's radar until she's thirty. Then she'll get her money and get off the street.
But one small mistake brings Deputy Sheriff Austin Trumball into her life. He's attractive and oh-so-dangerous. If he learns who she really is, her anonymous days are over. Worse, Austin's hard to resist, and their connection is terrifying. Soon he makes her want what she can't have--a lover, a family and a home of her own.
My Review:
What a fantastically written novel. Sullivan engages both your imagination and your emotions. The intricately laid out and completely captivating plot keeps you hooked on the story and coming back for more. Sullivan develops her story in a slow, methodical manner, allowing readers time to guess and wonder throughout while becoming wrapped up in the lives of the characters. Her descriptions bring this realistic world to life like no other. Everything remains truly realistic throughout.
This is one of those rare stories that really and truly highlights the goodness in humanity. The characters are remarkably real, yet genuinely good people, even if their lives aren't easy. I literally felt my heart break at one point. Not only are the characters genuine and heartfelt, they are also very well developed. I loved getting to know them throughout the novel. I also appreciated how the characters never stopped growing. They weren't static but rather real individuals that you find out tidbits about throughout.
This is definitely one that stands out in the sea that is the contemporary romance genre. My copy of this novel will definitely become dog eared and well-loved in short order. I absolutely loved it and would recommend it to all lovers of contemporary romance.