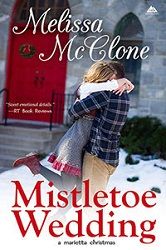 Title:
Mistletoe Wedding
Series:
Montana Born Christmas #2
Author:
Melissa McClone
Published:
October 16/14 by Tule Publishing Group
Length:
126pgs
Format:
ecopy
Genre:
contemporary romance
Shelf:
Netgalley
Rating:
★★★★★
Synopsis from Goodreads:
Event planner at the Bar V5 Dude Ranch, Meg Redstone is dreaming of a white Christmas with twinkling lights, sparkly decorations and strategically placed mistletoe. She loves making dreams come true for others, whether planning a holiday wedding or giving her young daughter the best Christmas ever.
Ranch foreman Tyler Murphy loves the holidays, but his newest employee has taken over his barn with her over-the-top decorations. He admires Meg's desire to give her daughter the perfect Christmas while planning a winter wonderland wedding, but he wants to show her that a Montana Christmas is more than glitter and lights.
After raising his younger sister, an instant family is not on Ty's Christmas wish list. But he finds himself falling hard for the single mom and her little girl. Meg, however, is not interested in a romance with a cowboy like Ty, or any man. Getting her under the mistletoe is going to take a Christmas miracle . . . or a little help from Santa.
My Review:
Well, if I hadn't been in love with Marietta & the Bar V5 before, I certainly am now! McClone brings us back to Montana in a big way that will leave you primed for Christmas and smiling at the romance she dangles before you. I enjoyed the romance that wasn't sappy, and the upbeat outlook on life that this town gives you, even if it isn't always a bed of roses. This is all wrapped up in McClone's fantastically illustrative writing and breathtaking narrative.
I love how McClone incorporates both past characters and new ones into this novel. Getting to know them even better as everyone comes back together for Christmas and a wedding gives readers a very unique outlook on who they are and what they stand for. The main couple in this story was fantastic as well. McClone brings them to live in a very real way. I was amazed at just how well we got to know them without going into information overload. Who these two are and how they perceive life directly affects the story as a whole.
This is a real, heart-warming, feel good Christmas story. McClone had me hooked from start to finish with this fast paced, quick read.