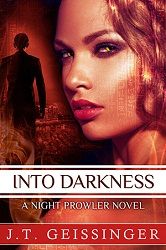 Title:
Into Darkness
Series:
Night Prowler #6
Author:
J.T. Geissinger
Published:
October 21/14 by Montlake Romance
Length:
402pgs
Format:
ecopy
Genre:
dystopian
Shelf:
review
Rating:
★★★★
Back Cover Blurb:
In New Vienna, capital of the oppressive global government formed after the Flash, three things are certain: the sun is poisonous, speaking out is dangerous, and being different will get you killed.
And Lumina Bohn is extraordinarily different.
Living in terror of discovery, Lu knows nothing of her past?but she knows she must pretend to be human to survive. When an incident at work triggers her astonishing powers, she becomes the target of an international manhunt. Only one person can save her: Magnus, the enigmatic stranger haunting her dreams.
Magnus rescues the outcasts called Aberrants from capture and torture. As Lu begins exploring her powers among her people, her feelings for Magnus intensify. He's determined to stay emotionally distant, yet their smoldering passion soon becomes impossible to resist.
But when a shocking revelation threatens the lives of every remaining Aberrant, Lu and Magnus must risk everything, confronting their enemies in an explosive final stand to save their kind from the darkest fate of all: extinction.
My Review:
This entire novel has a bit of an eerie feeling to it. It was almost as if you could feel the darkness seeping under everything. Geissinger's wildly imaginative storyline definitely had me hooked. Not only was it a brilliant escape from the everyday, but it was also easily believable. One could conceivable see how this could happen in the not-so-distant future. I did find the writing to be a bit choppy at times. At the beginning, the author denotes the passage of time in quick succession with various journal entries, which many will enjoy. I, however, found that it chopped the story up, taking a while for me to be completely immersed in what was otherwise a very intriguing story.
Character development in this story is strongly dependent on interpersonal relationships. It was a very interesting way to get to know the characters. The differences that you could see in them based on who they were interacting with allows for a very well rounded view of who they really are inside.
As a whole, this was an intriguing and catchy novel. Although the last in its series, it could also be read on its own.