Today we get to know author Houston Havens just a little bit better!
It's awesome to be here with you on your blog today. Thank you for having me. I hope to entertain and intrigue your viewers with my latest book in the Psychic Ménage Series.
Q ~ Can you tell us a bit about yourself?
A ~ I'm a tenacious Irish lass. I'm obsessed with uncovering and exposing the truth…I should have been an old time reporter.
Q ~ What's something that you never leave home without?
A ~ LOL My hubby.
Q ~ What is your favourite genre to read?
A ~ New age
Q ~To write?
A ~ Erotic - Romance
Q ~ Can you tell me about your ideal reader?
A ~ Anyone who enjoys my work. Anyone who loves my attention to details, looks for the mystery clues I leave for them in the stories and anyone who loves sizzling sex scenes…Any reader who wants a fabulous plot story with their HOT erotic tales.
Q ~ How did you begin writing? Was there a single catalyst or a series of events?
A ~ A life change experience that said life was to short to waste, and life here was given to each of us to 'make' things happen. Don't be afraid of change…so I made a big change in my life and writing is part of it.
Q ~ Who are your biggest supporters?
A ~ My hubby and my three BFF's!
Q ~ When you write, do you lay out a solid outline before beginning, or start writing and iron out the kinks later?
A ~ I plot the basic structure of the story and then as I write the characters start to talk and become real…they fill in all the little details and such.
Q ~ Do you have any writing rituals that you follow?
A ~ No, other than up everyday by 5 to grab a cup of Java and get to work.
Q ~ What is your go-to snack while writing?
A ~ I don't snack while writing…I hardly have time to eat. If no one is around to remind me to have some lunch or dinner, I don't. I do drink a lot of White Chocolate Caramel coffee.
Q ~ Can you tell us a little bit about your Psychic Menage series?
A ~ Oh gosh girl, I thought you'd never ask…yes, I can talk about it forever! The
Psychic Ménage
Series is a 7 book miniseries that weaves over 10 genres together. It's a series that will intrigue most readers…there's a little something for everyone…for men as well as women.
Psychic Ménage
is a series that takes you into a futuristic world…a very possible futuristic world. I based this reality on the high-tec technology that is in existence today and blended in odd facts on beings (Faeries, Giants, Aliens, and Shifters just to name a few) we think of as myths.
The reality of these characters and their lives seems real to my readers because as the series unfolds, so does the very real, very logical possibilities of these beings being real in our historical past….It makes my readers wonder 'IF' there is some hidden past and a real hidden future…visit my Pinterest and SEE why my world seems so real.
Come enjoy my fantasy…you just might be surprised.
Book one
Sinful Surrender
has 18 ~ 5 Star reviews and hit the best sellers list at Amazon in the US and UK…and the best sellers list at Are.
Book two
Phantom Desire
has had only 5 stars reviews! There is a total of 12 so far and the book has only been out for 28 days.
Q ~ What is your favourite part or scene in one of the novels?
A ~ In
Sinful Surrender
it is the interrogation scene between Fay and Drakker.
In
Phantom Desire
it is the painting scene between Chandra and Nikias
Q ~ Of the works you've written, which is your favourite?
A ~ I have written 12 books…this
Psychic Ménage
series is my favourite
Q ~ Is there also a character that holds a special place in your heart?
A ~ OMG each of them touch me in a special way because they are all so different. Each has their personal flaws, yet they have something so endearing about them…and each carry a burden that I empathize with. They are real to me, and I love them all for who they are.
Q ~ Do you have anything in the works at the moment? Care to give us a hint about it?
A ~ Besides finishing this series…Yes, I'm plotting out the sequel (spin-off) of this series with one that will follow it…the next series will take you into the Fae World and many of the characters in this series will show up there along with a whole new cast of beings….and troubles. I can't wait to share this fabulous world with me readers!
Q ~ If you could give aspiring authors one piece of advice, what would it be?
A ~ Write five complete books (single title length) and shelve them…by book six you will find your voice (trust me…you'll know when you find it) and that will be the book to submit…Do not rush your work to market…that can hurt your career…so take your time and write the best damn book you can!
Thank you for having me here today. I hope your followers enjoyed the interview and will give my books a try.
Bio:
Houston Havens retired from a successful modeling career and an adventurous jet-set lifestyle to set the world on fire with her erotic romance books. A tenacious Irish lass, she strives to entertain with seductive stories created from her decadent imagination and traces of a provocative lifestyle she may or may not admit to.
Her interest in the paranormal, fascination with quantum science, passion with myths, and the lure of her mysterious Celtic Irish-Druid bloodlines are combined with generally unknown truths, strange facts, and questionable fiction. Her novels reflect a mix of the past, present, and future, with sexy blends of futuristic science fiction, paranormal fantasy, western romance, and always love everlasting. An author of six romances, a seven book erotic romance series and numerous articles in literary magazines.
Stop by for a visit and leave a comment at her
Blog
.
Watch for my reviews of the 1st 2 novels in Houston Havens' Pyschic Menage series coming soon!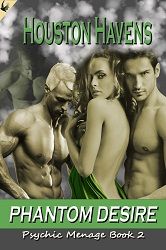 Phantom Desire,
Psychic Ménage Series: Book 2
A multi-genre story: Erotic Romance, Ménage (MFMM), Paranormal, Fantasy, Futuristic, Suspense, Dystopian, Post-Apocalyptic, Sci-Fi, Light BDSM, and Psychics.
Release Date: Sept 1, 2014
Published with: H.A.W.K. PUBLISHING – hawkpublishing.wix.com/hawkpublishing

Tag Line: I can have sex with any woman I want. But I can love only one…that one is you.

Blurb

Mind traveler Chandra Lamar is on the run, not only from her post-catastrophic dystopian government but from a past she can't remember. Will Chandra go through with the vengeance in her heart or give it up for love in the arms of the Nodin men or does her Phantom Desire forever own her heart?