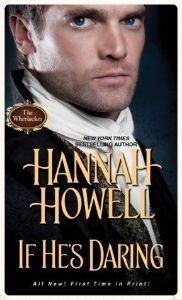 Title:
If He's Daring
Series:
Wherlocke #6
Author:
Hannah Howell
Published:
Oct 7/14 by Zebra
Length:
352pgs
Format:
ecopy
Genre:
historical paranormal romance
Shelf:
netgalley
Rating:
★★★★
Synopsis from Goodreads:
I
n a dazzling new novel in the Wherlocke family saga,
New York Times
bestselling author Hannah Howell creates an unforgettable story of intrigue, jeopardy, and desire. . .
Stealing a stranger's carriage is the second most reckless thing Lady Catrin Gryffin de Warrene has ever done. The first is succumbing to her powerful attraction to the carriage's owner. Catrin has heard the rumors about Sir Orion Wherlocke's family and their otherworldly gifts. He's the one person who can keep her son and his inheritance safe from her late husband's ruthless brother. As for how to protect herself. . .it may be too late for that.
Orion is facing the worst danger a man of his ilk can find: a woman he can't walk away from. Catrin is an intoxicating blend of innocence and sensuality, and for the first time, seduction is far more than a game. But her beauty and fortune have made her a target--one that will dare him to risk everything he's known--in pursuit of everything he's ever longed for...
My Review:
Howell is vividly in your face from the first page of this novel. You can't escape her upbeat writing or her captivating storytelling. Readers are drawn into the intricate world that she has crafted. Reality and fantasy merge in this one of a kind story. Howell captured my imagination and my heart throughout, making the story easy to follow and to picture.
The main characters in this novel are very easy to get to know and like. I thoroughly enjoyed Howell's gradual character development throughout. It was also nice to see the characters getting to know more of themselves and what they are capable of throughout their adventures. The fact that much of the supporting cast in this novel was children added another unique element to the story. The full cast was remarkable, filling out the story perfectly.
This is definitely one of those series that you should read in sequence for context, otherwise you start the story in the middle of an ongoing conflict. At the same time, this story could be read on its own and still be very enjoyable in and of itself.