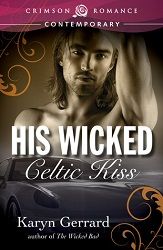 Title:
His Wicked Celtic Kiss
Series:
Wicked Men of Rockland #2
Author:
Karyn Gerrard
Published:
October 20/14 by Crimson Romance
Length:
181pgs
Format:
ecopy
Genre:
contemporary romance
Shelf:
review
Rating:
★★★★
Back Cover Blurb:
It took just one teasing wink and a sexy Irish lilt from bad boy Lorcan Byrne to turn Julie Denison's world upside down. The problem is, he's only in town for six months, and happily ever after isn't in this world traveler's vocabulary.
Julie's worked hard to get her life in a good place – dropping substantial weight and getting a great job at her friend's bakery. But this handsome charmer is just as tempting as any of the decadent pastries she sells, and she can't resist his advances for long. Julie fully expects Lorcan to break her heart—but she's planning to enjoy every second she can of their explosive chemistry.
After years of danger as a soldier and a spy, Lorcan fled to tiny Rockland, Maryland for some boring downtime. He didn't count on meeting someone who could ignite his libido and soothe his damaged heart, and their passion soon leads to deeper feelings. But can Julie convince Lorcan he has more to offer her than just his wicked Celtic kiss?
My Review:
Gerrard has written a captivating novella that kept me wondering throughout. It is one of those stories you know has to have a HEA but for the life of me I couldn't see how until we got there. It was a refreshing break from the all too common formulaic contemporary romances. The storyline definitely kept me engaged throughout, allowing me a glimpse into the lives of these characters and their friends. Although this isn't the first story in the series, the author sets it up so it can be read as a stand alone. She references past events but ensures that she gives readers enough background information so they aren't lost, without bogging them down in a recap.
Gerrard has created a very unique set of main characters for this novella. They stand out in the fact that they aren't perfect. They definitely aren't your stereotypical romance pair, but were perfect for the story all the same. I also appreciated the fact that they didn't try to fix each other. They simply wanted to support the other. That said, I definitely found it ironic (and a couple of times a little irritating) that the things that they were willing to accept in the other were the same basic issues that they were unable to accept in themselves.

Overall, this was an engaging, quick read with enough heat to sizzle. I really enjoyed it and found it to be a brilliant introduction to this author's work.