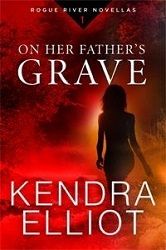 Title:
On Her Father's Grave
Series:
Rogue River #1
Author:
Kendra Elliot
Published:
October 7/14 by Montlake Romance
Length:
100pgs
Format:
ecopy
Genre:
romantic suspense
Shelf:
review
Rating:
★★★★
Synopsis from Goodreads:
In a small town like Solitude, Oregon, keeping a secret can be murder.
Stevie Taylor had left her sleepy Oregon hometown for a more exciting life. But after her police chief father passes away, the LAPD cop returns to Solitude and signs on as a patrol officer, hoping to heal from her loss…and from the horrific things she's seen in the city.
In Solitude, everyone knows everyone else's business—and, to Stevie's dismay, local gossip soon ties her to the new police chief and a man from her past. Tragedy then shakes up the small town when a teenager dies after taking a strange new drug. Now, the seasoned LA cop must hunt down the dealer while investigating the most important case of her life, one that could divide her tranquil town.
The first of four thrilling Rogue River novellas, On Her Father's Grave launches a new romantic suspense series from Kendra Elliot and Melinda Leigh.
My Review:
Elliot writes this novel in a very low key, quiet manner that suits her storyline perfectly. The suspense and mystery is definitely the focus of this story. Elliot kept me guessing throughout. There was also a light dose of romance, just enough to spark your interest. It all combined into a fantastic whole.
I was quite taken with Elliot's characters. I really enjoyed getting to know the main character. Her originality of spirit and strong beliefs allowed me to connect with her immediately. The entire cast is developed to suit their role in the story, without being strictly limited to that. I appreciate that everyone was developed to be a real, standalone individual with a real role in the story.
This series is definitely off to a great start and will be well worth watching.