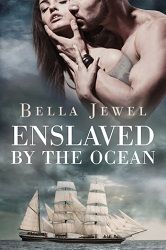 Title:
Enslaved by the Ocean
Series:
Criminals of the Ocean #1
Author:
Bella Jewel
Published:
October 14/14 by Montlake Romance (1st published December 6/13)
Length:
204pgs
Format:
ecopy
Genre:
romantic suspense
Shelf:
Netgalley
Rating:
★★★
Synopsis from Goodreads:
Indigo is running, she has no other choice. She's done something bad, and the only way to escape it, is to flee her home, and her country. She sets out on a luxury Yacht, to take her to another country with her best friend Eric. But she runs into a problem.
The Yacht catches fire.
She ends up stranded in the ocean, terrified, and scared of the uncertain. Until they show up. The pirates. Terrified, Indigo and Eric have to face the reality that this might be the end for them. These are pirates, they are the criminals of the ocean. What chance have they got of surviving this nightmare?
Then she lays eyes on Hendrix. He's the Captain, he's gorgeous, rugged, and mean. He's planning on keeping her to repay his debt to another man, by selling her. Now Indigo has a crazy ex after her, as well as a pirate she can't seem to get out of her head.
Come on this heart wrenching, dark, angsty and dangerous adventure as two people so opposite, find something so beautiful.
My Review:
This was definitely a different kind of novel, yet it had a bit of everything. There was romance, adventure, and a great deal of controversial topics. Jewel's voice definitely fit the storyline to a T. I really enjoyed her writing style. This novel was definitely up and down for me. There were parts I really enjoyed, and others that kind of left me reeling. I found that Jewel stretched reality a bit too far a couple of times, without ever actually stepping out of the realm of the real world.
The characters in this novel were quite well developed. I found myself rooting for them. Jewel ensures that you always understand why the characters do what they do and where they came from. Now, that doesn't mean that I always agreed with them. There were quite a few times where I was left quite perplexed as to why a person (any person) would take that option, but then again, all people are individuals.
As a whole this was a unique, enjoyable read. Jewel has created a complex story that will leave you thinking.