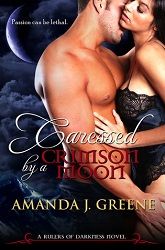 Title:
Caressed by a Crimson Moon
Series:
Rulers of Darkness #3
Author:
Amanda J. Greene
Published:
January 27/13
Length:
388pgs
Format:
ecopy
Genre:
paranormal romance
Shelf:
review
Rating:
★★★★★
Back Cover Blurb:
Consumed by madness and tormented by dark memories of blood and death, Hadrian Lucretius, King of the Validus Clan, has returned after living in self-imposed exile for nearly three hundred and fifty years.
To maintain peace with the vampires, Eva Maldonado is offered as a sacrifice to the crazed vampire king by her father, the alpha of the Silveria Shifter Pack. Hadrian's reputation is both legendary and lethal; he is ruthless, bloodthirsty, lusty, and soulless. When Eva arrives at the ancient fortress high in the Carpathian Mountains, she is shocked to find a ravaged man with dark burning eyes filled with loneliness and dangerous desire.
Would she be his lover…or his prey? His savior…or his victim? Would Hadrian lure her into madness or would their perilous passion be their redemption?
My Review:
Greene takes her world of vampire kings and true mates to the next level with this one. She weaves this into a seamless and gripping tale that I won't be able to forget. Suspense & romance vie with lust & self-doubt in the perfect combination to keep you hooked. Being a visual author, Greene makes it very easy for her audience to picture each and every aspect of their surroundings. It is so easy to picture yourself right there alongside the characters.
I love how we get to meet the shifters in this instalment. For once, they aren't the good guys, nor are they the bad guys. They are a very culturally bound group that will definitely spark some controversy. Half-breeds are also different here. We (as readers of paranormal stories) are so used to shifter DNA being dominant that the way Greene develops it is surprisingly riveting & extremely well done, it not only makes her characters stand out, but draws you to them.
This was an exciting & exhilarating story that I definitely couldn't put down. I can't wait to read more from this riveting author.