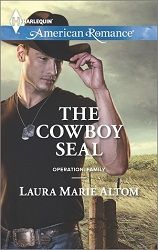 Title:
The Cowboy Seal
Series:
Operation: Family #7
Author:
Laura Marie Altom
Published:
October 7/14 by Harlequin
Length:
224pgs
Format:
ecopy
Genre:
contemporary romance
Shelf:
netgaley
Rating:
★★★★★
Synopsis from Goodreads:
The Road To Redemption
Navy SEAL Cooper Hansen hasn't been home in more than a decade. He has never forgiven himself for the accident that killed his mother, and as far as he knows, neither has his family. But when his brother's widow, Millie, needs his help to save the Hansen ranch, Cooper can't stay away any longer.
Millie has always loved Cooper in some way—as a childhood friend, a high-school crush and then as a brother-in-law. Now that he's back in Brewer's Falls, she's discovering new, unexpected feelings for him. But if Cooper keeps holding on to the pain of the past, will he ever give their future together a fighting chance?
My Review:
What a chillingly haunting yet wildly romantic story. Altom definitely pits love against the odds in this one, and love does win out in the end. This well-developed storyline combines with her down to earth writing to take readers all the way to a ranch in Colorado. She paints a vivid picture that you can't help but see, all the while taking your heart along for the ride. Altom also had me emotionally engaged in this story. I laughed, I cried, I groaned and threw a couch cushion across the room. It was fantastic.
This is a very character driven novel. Their pasts are so directly tied to the present that it is all very present in the novel. At the same time, their present is so full of difficulties that they can't see their way out of it. Getting to know these individuals while they come to terms with their new reality was quite enriching. Altom has developed them so well that you can't help but love them. This goes for both the main characters and the supporting cast.
Overall, this was a quick, emotional read that kept my attention throughout. It is a brilliant addition to my library.