Title:
Christmas on 4th Street
Series:
Fool's Gold 12.5
Author:
Susan Mallery
Published:
October 28/14 by Harlequin HQN (First published September 24/13)
Length:
336pgs
Format:
ecopy
Genre:
contemporary romance
Shelf:
Netgalley
Rating:
★★★★★
Back Cover Blurb:
There's nowhere better to spend the holidays than with New York Times bestselling author Susan Mallery in the town of Fool's Gold, where love is always waiting to be unwrapped…
Noelle Perkins just got a second chance at life, and she intends to make the most of it. That's why she's opening her own store in Fool's Gold, California. The Christmas Attic celebrates everything that's magical about her favorite season. Business is booming, and as a bonus, gorgeous army doctor Gabriel Boylan has offered to help out during the holiday rush.
Gabriel's memories of Christmas past contain more sour grapes than sugarplums, thanks to his drill sergeant father. Spending the holidays with his family while he recuperates from an injury sounds as appetizing as last year's eggnog. Still, there are some enjoyable distractions in town, including sunny, sexy Noelle…and the red-hot mistletoe kisses they can't stop sharing.
Gabriel didn't think he was made for happily-ever-afters. But when fate hands you a love as sweet and surprising as this, only a fool could refuse….
My Review:
With every one of these stories that I read I fall further and further in love with Susan Mallery & Fool's Gold. Mallery's intricately crafted storyline along with her fantastically captivating storytelling will keep you hooked for the long run. I read this novel in little more than a single sitting. The breathtaking yet down to earth descriptions paint a fantastic picture of this loveable town while her inviting narrative draws you further in.
And if the story itself wasn't enough, the characters are absolutely fantastic. Both of the main characters have such intense histories that shaped them and their beliefs. This doesn't make me pity them, but rather allows you to identify with them and make you love them all the more. They are also well developed, well rounded individuals who are genuinely good people. It was such a fantastic feeling to see them coming together. Having them surrounded the other residents of Fool's Gold just made the story all the more real. The sense of community and family that pervades the story is astounding. And I mean really… What's Fool's Gold without meddling Mayor Marsha, or Eddie and Gladys?
As a whole, this was a fantastic novel that really kept me captivated, both emotionally and intellectually. It was a fantastic addition to the series, or something easily read as a standalone, and will most definitely become dog-eared in short order.
And for a little something special today… A secret hidden review for the lovely Fool's Gold novella at the end of the reissue of Christmas on 4th street.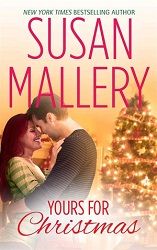 Title:
Yours for Christmas
Series:
Fool's Gold #15.5
Author:
Susan Mallery
Published:
October 28/14 by Harlequin
Length:
98pgs
Format:
ecopy
Genre:
contemporary romance
Shelf:
bought & Netgalley
Rating:
★★★★★
Back Cover Blurb:
Step out of the winter chill and into the warmth of Fool's Gold, California, the charming small-town setting for a new holiday novella from New York Times bestselling author Susan Mallery

Famous former NFL stars don't date single working moms like Bailey Voss. She'll allow herself to daydream about Kenny Scott's muscles and killer smile, but wanting more would lead to post-holiday regret. Then Kenny volunteers to run a toy drive with Bailey, and she learns that he's not just hot…he's also generous, funny, nice. The whole package—tantalizingly out of reach.

The ache of past loss reminds Kenny why he needs to avoid getting too close to anyone. Especially to a gorgeous redhead and her adorable little girl. Mess it up, and he'd lose them both. Yet Kenny can only resist Bailey for so long. And as festive spirit spreads throughout the town, he's all wrapped up in Bailey's sweet, sexy kisses and determined to make this the first of many Christmases together…
My Review:
A bit of a disclaimer before I start this review. I've been dying for this story since Bailey and Kenny first met (hence the fact that I already have 2 copies). The chemistry and actual caring between the two has been building for the last few novels in the series. That said, this one can easily be read as a brilliant standalone that brings out the Christmas spirit as well as the best in all of us. Mallery's usual well written, easy to love writing style shines through this unique and remarkable story.
The characters are fantastic. I fell in love with them all over again in this one. As much as I loved Kenny walking into this one, knowing his full story makes me love him all the more. Bailey's strength and heart shine through, creating a captivating individual that you can't help but love. Even in this shorter page count her characters shine through with remarkable clarity and individuality. This doesn't stop with the main characters, the supporting cast shines as well. The feeling of love between them all is simply amazing.
This is definitely one that will bring out the Christmas spirit in all of us. It was a fantastic, quick read that I wouldn't hesitate to recommend to others.
Christmas on 4th Street
Yours for Christmas
Christmas on 4th Street: Yours for Christmas