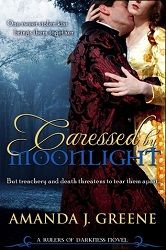 Title:
Caressed by Moonlight
Series:
Rulers of Darkness #1
Author:
Amanda J. Greene
Published:
November 29/10 by Amazon Digital Services
Length:
272pgs
Format:
ecopy
Genre:
historical paranormal romance
Shelf:
review
Rating:
★★★★
Synopsis from Goodreads:
Dorian Vlakhos is no ordinary aristocrat. He is a vampire king, who will do anything to save his clan from complete annihilation, before an ancient curse can claim his immortal life.
Penniless and orphaned, Victoria Kingston has nothing to bring to a marriage, yet she must shackle an unsuspecting gentleman into marriage by the end of the month or forfeit her rights as guardian of her younger sister. With the help of her dearest friend, Victoria begins her hunt, and vows to stay far away from the dark, mysterious, Dorian Vlakhos.
After meeting the beautifully innocent Miss Kingston, Dorian had to have her. He would do absolutely anything to make Victoria his. One sweet stolen kiss would bring them together while a force, more powerful than any vampire would bind them for all eternity. But treachery, war, and death rule Dorian's dark world and Victoria would be fortunate to survive.
My Review:
This story is about so much more than just a typical paranormal romance. Life and death, love and loss, family and friends, war and betrayal are all integral parts of the tale. I was enchanted by the world that Greene created. It was vivid and larger than life, yet well placed in London's ton scene. As with many first novels in a series it takes a while to get into the story while the author takes us deep into the world that she's created. Greene sets the scene well for this world, setting readers up for the rest of the series. I found that the writing in this novel starts out rather forced and overly formal for a work of fiction, even a historical one. I really evens out throughout the novel as the author finds her footing and her voice.
I was quite intrigued with the cast of characters that Greene introduces us to in this novel. I thoroughly enjoyed getting to know the main characters. They were both fun and serious. Watching them get to know one another made the entire tale feel quite intimate. The supporting cast was quite loveable as well. They rounded out the story nicely, while also providing information pertinent to the forward flow of the story.
This was a wildly scandalous and vividly imaginative novel that kept me coming back for more. I can't wait to see what comes next from this promising author.