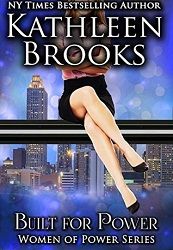 Title:
Built For Power
Series:
Women of Power #2
Author:
Kathleen Brooks
Published:
September 8/14 by Laurens Publishing
Length:
275pgs
Format:
ecopy
Genre:
contemporary romance
Shelf:
review
Rating:
★★★★
Synopsis from Goodreads:
Bree Simpson has her dream job at the family company. However, recent events have turned that dream into a nightmare. Bree has learned to tolerate a lot as one of the few women in an executive position in the construction industry. But when the normal bullying tactics turn aggressive and threaten her project in Atlanta, Bree decides to go on the offensive. Convinced an architect is out to destroy her project, Bree decides it's time to give Logan Ward a piece of her mind.
Despite being thousands of miles away in London, successful architect Logan Ward finds himself on the receiving end of "B. Simpson's" angry messages from across the pond. Deciding to handle B. Simpson's demands himself, Logan heads to Atlanta only to discover things are not what they seem, starting with the sexy woman he rescues after an accident on the job site.
Only time will tell if a case of mistaken identity can turn hate into love—but time may not be a luxury they can afford. Can Logan and Bree discover their real selves and true love in time or will everything be torn down around them?
My Review:
What a thrilling story. Brooks easily balances suspense with romance and a huge dash of reality on the side. Comic relief comes in the form of every day events that you could plausibly picture happening to yourself or someone you know, making it even funnier. Put this all together in a well-developed, visually described setting and you have a winner. Not only that, but the storyline itself is unique and very intuitive without going overboard.
I loved getting to know the main character in this novel. A strong willed female in a male dominated industry was quite the match for equally strong willed yet kind male lead. The depth & breadth of character that we see here is remarkable. Brooks also develops them in a well-rounded, intricate manner that sets them before you like real people rather than simply story-book characters.
Overall, I thoroughly enjoyed reading this novel. The suspense and drama kept me captivated while the characters made it real. This is definitely a series that I'll continue following.