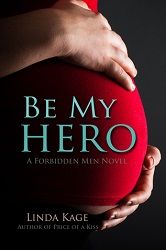 Title:
Be My Hero
Series:
Forbidden Men /3
Author:
Linda Kage
Published:
August 25/14
Length:
377pgs
Format:
ecopy
Genre:
contemporary romance
Shelf:
review
Rating:
★★★★
Synopsis from Goodreads:
Once upon a time, there was this pampered rich girl who was kind of full of herself. She really only cared about appearances and hiding all her dark, ugly secrets under the guise of an opinionated snob. But then Eva Mercer got pregnant, shot by a psycho, and kicked out of the only home she knew. Now she's broke, unemployed, and has to start anew with a newborn to raise. But how?
On the other side of town, sexy, tattooed orphan, Patrick Ryan, can't get a break. He's out on parole for defending the last damsel in distress while trying to help her support her child, but all he wants is to find his one true love. He knows this woman by scent, smile, and laugh, but he's never actually met her. He doesn't even know her name. He just knows she's the key to fixing everything.
One kind of hero can save you from physical harm. Another can rescue you from a different kind of doom. To reach their dreams, Eva and Pick can save each other. But first, they must open their hearts and learn how to trust.
My Review:
I absolutely love Kage's style! She weaves a brilliant, unique, unforgettable story that will leave you reeling and gasping for more. There was more than once when I found myself staring at the pages of this book, trying to figure out how it would all work out. And sure, there were a few times where I kind of wondered what had just happened, but together Kage created a unique whole that definitely had me captivated.
The unique and touching characters in this novel really called to me. Not only were they well developed & well rounded (or a little skewed stemming from their backgrounds) but they were genuine and caring individuals. The past hurts and traumas that need to be healed combine with present feelings in ways that make them quite memorable. I felt like I really got to know them through Kage's words.
Overall, this was a remarkably unique, wonderfully fulfilling novel. I'd recommend it to those who enjoy romance with a different outlook on life.