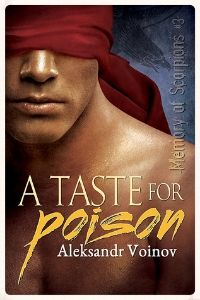 Title:
A Taste For Poison
Series:
Memory of Scorpions #3
Author:
Aleksandr Voinov
Published:
Oct 13/14 by Riptide Publishing
Length:
265pgs
Format:
ecopy
Genre:
m/m romance
Shelf:
netgalley
Rating:
★★★★
Synopsis from Goodreads:
Even a king gets stung when he reaches for a scorpion.
After barely surviving an assassination attempt, King Adrastes is a changed man—one who mistrusts even his allies and friends. He readies his Empire for war against an enigmatic enemy, the Elder of Vededrin, but not everyone approves. While courtiers dare only to whisper dissent, an outrider called Death foments rebellion in the mountains, aided by a prophecy that promises he'll stop the Black King.
Kendras—former lover to Adrastes and leader of the Scorpions—is sent with his elite mercenary force to bring Death to justice. But when Kendras learns who's hiding behind the mask, he must choose between his lover Graukar, newly-appointed general to the king—and King Adrastes himself.
With no man to call master, the Scorpions could flee the danger and intrigue. But Kendras cannot abandon the man he once loved—or the man he's growing to love—without first uncovering the real threat to the Empire.
My Review:
I was drawn to this story right from the very first page. Voinov sets his scene in a magical and eloquent manner. You don't simply picture it, but rather, are transported there. I enjoyed the adventure of this story. The journey was breathtaking. The intrigue kept me on my toes. I found myself trying to unravel the story as Voinov was telling it. It was a fantastic experience.
Getting to know the various different players in the story was absolutely amazing. The dynamics and intrigue between them kept me on my toes. I loved getting to know everyone`s secrets & trying to figure out who knew what about whom, while also feeling the camaraderie between brothers at arms. The mysterious aura behind some of the characters had me so jumpy that I nearly flew off the couch at times. Neither I, nor the rest of the characters, could guess what he was up to. On top of all that, these characters were quite well developed. I enjoyed the multifaceted portrayal of the major players in the tale. The naturalness of their dialogue along with the eloquence of the speeches really draws you to the individuals who are at the forefront of this tale.
This was an eloquently put together novel. Voinov kept me captivated and on my toes throughout. I`d recommend this story to those who enjoy action, adventure, and court intrigue.