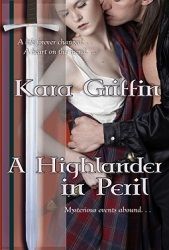 Before we get started today, let's get to know author Kara Griffin a bit better.
Q ~ Can you tell us a bit about yourself?
I grew up in the city of Philadelphia and moved to the suburbs when my children were young. I'm very close with my three daughters and still in love with my husband of twenty-five years. During the day, I work in the publishing industry in the publicity field, but at night, I let my creative side loose. In the next couple of months many changes are coming for our family. We're finally downsizing since the girls are all moved out and I'm looking forward to simplifying my life. I cannot wait for the changes.
Q ~ What's something that you never leave home without?
Oh that's a hard question to answer. I'm far from materialistic and don't really have any connection to items. But I'd have to say my purse which holds everything I need – basically my debit card and check book!
Q ~ What is your go-to snack while writing?
Oh I can be bad on occasion. I'd say Doritos are my ultimate go-to snack and guilty pleasure. I also like Reeses Pieces.
Q ~ How did you begin writing? Was there a single catalyst or a series of events?
It's hard to believe I've been writing for fifteen years. I will never forget the day I sat down at my computer and started writing my first book – Warrior's Pledge. It all sort of came to me because I had just returned home from an 18 hour drive from Chicago and was beyond tired. You know, the kind of tired where you want to desperately sleep, but can't. My mind began swirling with this story and instead of sleeping, I got up and started writing. I haven't looked back since.
Q ~ Who are your biggest supporters?
I would have to say my middle daughter and some very close writing friends. I keep my writing private and am not really one to share it those around me. Husband will sometimes help me with a word or scene.
Q ~ When you write, do you lay out a solid outline before beginning, or start writing and iron out the kinks later?
I am a total prankster and write on the cuff. Sometimes if a story is elusive, I'll write out a chapter plot, jotting down one sentence that encompasses where I want the story to go, so I keep to it. Otherwise, I usually just let it flow.
Q ~ Why did you choose to write historical romance as your primary genre?
I have always been drawn to history and love the medieval period. Even though it was far from romantic living in that era, it was such a different time and one that I feel connected to. I do write some sci-fi romance as well, which allows me more freedom than historicals.
Q ~ Can you tell us a little bit about your latest release A Highlander in Peril?
A Highlander In Peril is the 3rd book in the Gunn Guardsman series. You can read it without having to read the previous books. It is the story of Sean and Frances, who both are led to each other through duty. Neither can deny their attraction, and they both realize what they each wanted and needed was each other. A perilous villain intends to ruin their courtship and Sean has to figure out who the knave is. There is a bit of mystery there, that I hope readers enjoy.
Q ~ What is your favourite part or scene in the book?
I would have to say it's where Frances decides to reveal her true nature and does what she wants rather than what's expected. Sean is being elusive and she decides to take matters into her own hands, so to speak.
Q ~ What inspired you to develop the Gunn Guardsman Series?
I had a vision of a young baby being held by the king and the whole story of One & Only came to me. I hadn't meant to write it as a series, but then Kenneth, Sean, and James demanded their own stories. I had no choice but to write them as well.
Q ~ Of the works you've written, which is your favourite? Is there also a character that holds a special place in your heart?
You would think with time, my answer would change – but it is still Claimed By A Charmer. I absolutely love the character Isabel. If I were a heroine, I'd want to be her. She is so courageous and truly a lovely person. And I love how she makes Douglas, the hero in the story, crazed. It is my absolute favorite to date. BUT I am always captivated by the story I'm currently writing too.
Q ~ Do you have anything in the works at the moment? Care to give us a hint about it?
Oh, blushes. I do have something in the works and have been researching like a mad writer. I cannot wait to start the series, which I plan to begin in the new year. This one is definitely a series to start and the characters are already intruding on my thoughts. All I can say with certainty is that readers will love these honorable Scotsmen and their stories will have everyone sighing.
Q ~ If you could give aspiring authors one piece of advice, what would it be?
Only one? That's easy – write with your heart and love what you write. If your writing makes you smile then it will make others smile.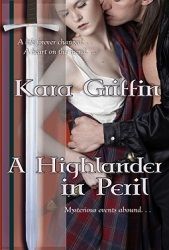 Title:
A Highlander In Peril
Series:
Gunn Guardsman #3
Author:
Kara Griffin
Published:
July 25/14 by CreateSpace
Length:
334pgs
Format:
ecopy
Genre:
historical romance
Shelf:
review
Rating:
★★★★
Synopsis from Goodreads:
A life forever changed
A heart on the mend
Mysterious events abound
In order to receive his family's fortune, Sean Gunn must agree to wed the lady thrust upon him by his dying uncle. As a Gunn clan protector and guardsman, he is honor bound to accept his uncle's legacy and the woman whose voice alone affects more than his heart.
Lady Frances Jordan never thought to feel the stirrings of love since she'd lost her husband, but Sean Gunn's irresistible manner and handsomeness is just what she needs to move on with her life. He awakens more than desire with his passionate kisses and romantic gestures.
When many a lady goes missing near the border of Scotland and England, Sean is determined to find out who the knave is. Unfortunately Frances becomes the target of the would-be attacker and needs the aid of the Gunn protector. Can Sean keep his lady safe and embroil himself in border politics to ferret out the assailant?
My Review:
This novel is suspenseful with a sweet romance (and some lusty scenes too, but they don't take over the story). Mystery abounds as the characters attempt to discover what is happening around them without the aid of modern day CSI. There is so much more to this tale than that. Griffin also brings the Scottish Court to life in a large way, both in context and visually. This gives readers a basis for the rest of the story. The writing in this story isn't light and fluffy, and the dialogue was time period appropriate.
I appreciated seeing a female lead that doesn't flaunt society's conventions from the get-go. Griffin has developed a heroine who endeavours to follow the rules set before her by society & by her husband. Combine that with a fierce warrior who puts his family above all else and you have a remarkable pairing. I also enjoyed getting to know the well-developed supporting cast. Each individual was so different from the next, yet added to the story in a real way.
Overall, this was a quite enjoyable read. I found myself lost in the world that Griffin had created, racing alongside her characters towards the conclusion.