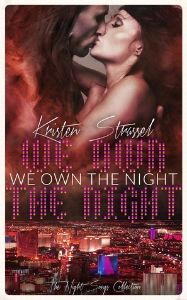 Title:
We Own The Night
Series:
Night Songs Collection 33
Author:
Kristen Strassel
Published:
Sept 1/14 by Kristen Strassel
Length:
229pgs
Format:
ecopy
Genre:
NA paranormal romance
Shelf:
review
Rating:
★★★


Synopsis from Goodreads:
Callie Chabot would stop at nothing to save her ex-boyfriend Blade Bennett from the clutches of vampire clan leader Talis de Rancourt, even if means becoming immortal herself. What she doesn't know is that Blade has already defeated Talis, and he's waiting for Callie in the afterlife.
Now Callie only has her creator, Tristan Trevosier, to turn to for guidance. But he's too wrapped up in the debauchery of the Las Vegas rock scene to give a damn about the particulars of being undead. That's enough to drive Callie crazy on its own, but female vampires are automatic clan leaders.
Not only does Callie have no idea how to wrangle a vampire clan, but her would-be followers have more to gain from her failure. They instead choose to follow Blade—and he's hell-bent on making Callie pay for her bad decisions. Since he took out the existing clan leader, that automatically puts him at the helm of what should be Callie's new clan.
That's when seasoned rogue vampire, Cash Logan, shows up, shrouded in magic and mystery. No one is sure which side Cash is on, but Callie needs to take a chance on the one vampire who is willing to give her the answers she needs, no matter how dark and frightening they may be. Callie must trust her instincts and form alliances that may backfire. Cash shows Callie that playing nice is no longer an option, and that fixing her wrongs won't always make everything right.
To take control of her clan, Callie must look to her rival to discover exactly what makes her a leader.
My Review:
Strassel's entire vampire world does an about face in this novel. Politics and intrigue, with a side of snark and violence, rule the day. The plot of this story builds directly on the past novels in the series. It can't really be read on its own, but is a great addition to the series as a whole. Her vivid and larger than life descriptions take you deep into this world. That said, I definitely found this instalment a bit more difficult to get into than the previous ones. It was still quite enjoyable, but wasn't quite the same.
The main characters in this novel have changed a great deal since its onset. They've grown and morphed based on their experiences. We also have a much more in-depth look at how they see themselves. Honest to goodness, Tristan's mood swings are giving me whiplash. His volatility was just as distracting as Callie's insecurity. The supporting cast really comes together with a surprising ease. Strassel merges the casts from her previous two novels to create a whole story. Each individual serves their own purpose but as a whole they complete the story.
Overall, this was an enjoyable read and really explained the cliffhanger left in the previous novel. Strassel threw some twists and turns at me that I would have never imagined.