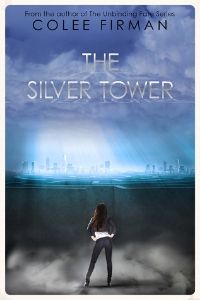 Title:
The Silver Tower
Series:
The Silver Tower Saga #1
Author:
Colee Firman
Published:
June 10/14
Length:
340pgs
Format:
ecopy
Genre:
NA paranormal romance
Shelf:
review
Rating:
★★★★★
Synopsis from Goodreads:
At eighteen-years-old, Sophie Hayden's entire life has already been planned out for her. Just like her parents, she's on the fast track to becoming a Guide for The Silver Tower. In three weeks, she'll graduate from Slatemore Academy and move away from home—away from her controlling father and spoiled siblings.
When Sophie heads out to do fieldwork required for graduation, she hardly expects to cross paths with students from her school—much less witness them using an ancient relic that's not supposed to leave the grounds of Slatemore.
Sophie's decision to find out exactly what they're up to nearly costs her everything. It seems like a miracle when Leo Emerik swoops in and saves her from disaster. Sophie's ready to thank him and move on. He has other plans for her.
The minute Leo set his sights on Sophie she knew she was in trouble. Just being in the same room as him has her perfect world ready to spin off its axis. Getting mixed up with Leo is the last thing she needs, and suddenly the only thing she wants.
A catastrophe with Sophie's name on it seems to be waiting around every corner since meeting Leo. Somehow, he's always there to bail her out. Everyone else can see the one thing she can't—her bad fortune may all lead back to him.
*WARNING* CONTAINS ADULT LANGUAGE. MAY NOT BE SUITABLE FOR YOUNGER AND/OR SENSITIVE READERS.
My Review:
Firman presents her readers with a brilliantly created world that you can't help but picture. Her vivid descriptions and lively narrative will keep you captivated throughout. The story itself was well thought out and turned out. Everything comes together in a seamless whole with twists and turns you'd never imagined. Firman kept me on my toes throughout. This story was both completely captivating and wildly entertaining.
Firman creates the type of characters that you instinctively want to know better. I not only felt for but also understood the main character in this novel. The way that she was developed made it quite easy to put myself in her shoes. She was also the type of person that you wanted to get to know. Her life may be completely different from my own, but that made the journey with her that much more entertaining. I also enjoyed the well-developed supporting characters. There were a vast array of individuals to fill out this story, yet everyone had a purpose. The dialogue in this novel is also spot on. Each character's personality shines through in the way that they speak and act.
This was a brilliant introduction to Firman's new series. I devoured it in a single sitting and wish it had never ended. I'll definitely be counting down the days until I can read the next!