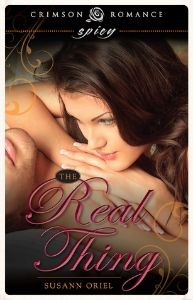 Title:
The Real Thing
Author:
Susan Oriel
Published:
September 8/14 by Crimson Romance
Length:
182pgs
Format:
ecopy
Genre:
spicy contemporary romance
Shelf:
review
Rating:
★★★★
Synopsis from Goodreads:
Top art expert Gemma Gilmore can easily spot a fake from across a crowded gallery. So she wonders why the smoking-hot man standing alone in the far corner of the auction room isn't bidding. She and her killer five-inch pumps vow to find out.
Mac Buchanan is on an undercover assignment that leaves no room for small talk and soft emotions. When one of the expensive paintings Gemma authenticated turns out to be a fake, he's the prime investigator, and he's determined not to let her breathtaking sex appeal whitewash a serious crime.
But even facing off over a $50 million art fraud case isn't enough to contain their blazing sexual chemistry. Time and again, passion draws them together, but they're driven apart by an ever-increasing web of lies, set-ups, and betrayals.
When the truth behind the fraud is revealed, will their relationship shatter or will they discover their intense connection is the real thing?
My Review:
This was a well-developed and intriguing story that definitely caught my attention from the get-go. I thoroughly enjoyed the way in which art authentication was developed. This added a great deal of substance to the story. Oriel switches back and forth between the art world and a hotter than Hades whirlwind romance that will have your toes curling. She develops her scenes in an artistic manner that melds completely with the storyline while allowing you to visualize it all.
The characters in this novel were developed in a very unique manner. The female lead was a well-rounded individual who loved her job, was trying to distance herself from her ex, and got caught up in circumstances beyond her control. The male lead was a mysterious alpha male type who caught my attention and had my pulse racing. You could feel the heat sizzling between the characters. It was brilliant. The supporting cast rounded out the story nicely. I found myself trying to guess who the culprit was, getting really into the story.
As a whole, this was an exciting, fast paced read that both kept me on my toes and kept my pulse racing. I'd thoroughly recommend it to those looking for a quick read with both heat and substance.