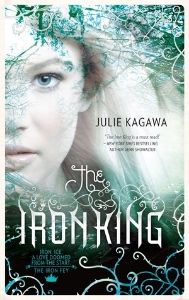 Title:
The Iron King
Series:
The Iron Fey #2
Author:
Julie Kagawa
Published:
Feb 1/10 by Harlequin Teen
Length:
363pgs
Format:
ecopy
Genre:
YA fantasy
Shelf:
bought
Rating:
★★★★
Synopsis from Goodreads:
Meghan Chase has a secret destiny; one she could never have imagined.
Something has always felt slightly off in Meghan's life, ever since her father disappeared before her eyes when she was six. She has never quite fit in at school or at home.
When a dark stranger begins watching her from afar, and her prankster best friend becomes strangely protective of her, Meghan senses that everything she's known is about to change.
But she could never have guessed the truth - that she is the daughter of a mythical faery king and is a pawn in a deadly war. Now Meghan will learn just how far she'll go to save someone she cares about, to stop a mysterious evil, no faery creature dare face; and to find love with a young prince who might rather see her dead than let her touch his icy heart.
My Review:
Not only does Kagawa slowly introduce her audience to the world of Faeryland, but she does so in a fast paced and exciting manner that will keep you glued to the pages. Readers are introduced to the full impact of Kagawa's versions of the Seelie & Unseelie courts. I found myself drawn to them, as if to a siren's song. This story really highlights what I like best about Kagawa's writing. The vivid and wildly imaginative way that she writes keeps me coming back for more.
I was immediately drawn to the main character of this story. I found myself wanting to know more and more about her. Kagawa's gradual character development made it even more exciting. I felt like I was getting to know a new friend. Kagawa's characters are so complex that there's always something new to learn about them, even after you feel that you must already know everything. The creatures and beings in this story are so real and lifelike, almost larger than life at times.
Magic seeps out of this novel. It was the perfect introduction to this series that I will most definitely be reading.