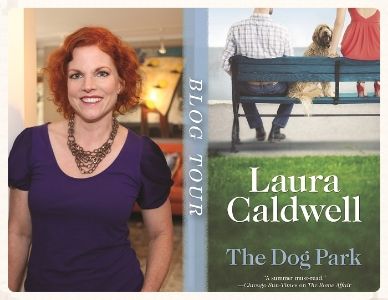 Title:
The Dog Park
Author:
Laura Caldwell
Published:
July 29/14 by Harlequin MIRA
Length:
352pgs
Format:
paperback
Genre:
contemporary romance
Shelf:
review
Rating:
★★★★★
Synopsis from Goodreads:
A couple's best friend?
Stylist Jessica Champlin knows it takes more than a darling goldendoodle to save a marriage. She and her ex-husband, investigative journalist Sebastian Hess, had too many irreconcilable differences for even their beloved dog, Baxter, to heal. So they've agreed to joint custody, and life has settled into a prickly normalcy.
But when Baxter heroically rescues a child and the video footage goes viral, Jess and Sebastian are thrown together again, and her life takes some very unexpected twists. The line of dogwear she creates becomes wildly successful, and suddenly she's in the spotlight with everyone watching—the press, the new guy she's seeing, Sebastian and the past she never imagined she would face again. Soon there's only one person by her side—and it's the person she least expected. She's willing to open up to a new normal…just as long as Baxter approves.
My Review:
This is a well put together and thought out novel. I love the fact that the realities of life for those of us in our 30s with pets instead of kids can easily relate to the tale. At the same time, there are definitely aspects that take you out of your everyday life. Caldwell melds this all together into a brilliant tale that kept me captivated throughout. I enjoyed the beginning, which made me smile, just as much as the explosive ending. At the same time, Caldwell writes in such a manner that the reader becomes part of the tale. You find yourself joining the characters along their journey. Caldwell's picturesque descriptions weave their way throughout the story, providing you with an easy introduction to this world.
I know we routinely say 'I didn't see that coming' when reading a book that takes an unexpected twist, but Caldwell takes that to a whole new level. When I say I didn't see that ending coming, what I mean is 'never in a million years could I have possibly fathomed this story taking that kind of a twist.' At the same time, it works perfectly. Caldwell has gradually built us up in such a manner that when you see how things end, it's really the most logical conclusion.
Caldwell's mellow writing style and upbeat attitude really draw you to the main character. Her attempts to overcome much of what she is living through as well as being a better person for herself mesh perfectly with this style and are quite charming. At the same time, the emotional turmoil brought forth through her relationship with her ex-husband breaks your heart. I love how Caldwell develops her past and her present, as well as the way that they crash together. The manner in which the rest of the cast is developed is similarly enlightening. You get to know many of them quite well, each adding to the story in their own way.
As a whole this was a fantastic novel. I'd recommend it to anyone who enjoys romance, dogs, and a big surprise. I definitely can't wait to read more work by this author.