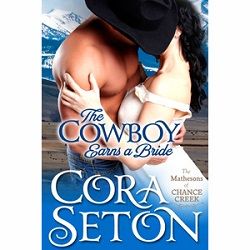 Title:
The Cowboy Earns A Bride
Series:
The Cowboys of Chance Creek #8
Author:
Cora Seton
Published:
September 22/14
Length:
253pgs
Format:
ecopy
Genre:
contemporary romance
Shelf:
netgalley
Rating:
★★★★
Synopsis from Goodreads:
Wedding bells are ringing on the Double-Bar-K and Luke Matheson is determined to make his move on his favorite bridesmaid—sweet, sexy Mia Start. Though she's shared his house for more than two months, she's remained elusive. Luke's ready to cross that divide, and win her love for good.
Mia would give anything to marry Luke, but he won't want her once he knows the truth; she's four months pregnant with another man's child. It's time to find a real home—and a real job—so she can raise her baby alone.
When a nosy neighbor exposes Mia's pregnancy at his brother's wedding, Luke sees his chance to finally get what he wants. He lays claim to the baby—and to Mia—but their happily-ever-after lasts barely a day. When Luke's pride clashes with Mia's need for independence, Mia calls their brand new engagement off.
Can Luke convince her to change her mind? Or will these wedding bells sound the death knell of their relationship?
My Review:
This was quite a story. I laughed, I cried, I pondered. Seton combines her fluent writing with a solidly built plot to create a very captivating story that takes you well into the world of ranch life. On the surface you've got an engaging story about a couple who seem quite at odds. Underneath, however, I found myself trying to figure out who'd really done all of the behind the scenes stuff. The fact that there was so much more to the story brought the possibilities into the realm of reality.
Seton develops her main characters in a very intricate yet gradual manner. I appreciated how well we got to know them without feeling like we'd simply read their biographies. The contrast between the just getting to stand on her own female lead with the rather blockheaded rancher was comedic at times, but very true. I appreciate how Seton introduces you to the entire cast of characters, rather than simply assuming that you remember everyone from previous novels (or that you've read them). Getting to know the entire family puts the story in a much broader context. It's not simply a romance but the story of the lives of the main characters.
All together this was a very interesting and captivating novel. I wouldn't hesitate to recommend it to anyone who enjoys a western romance with a new-aged twist.