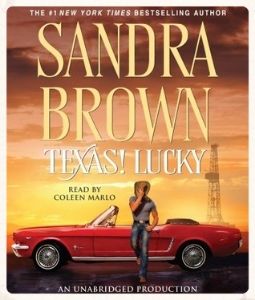 Title:
Texas! Lucky
Series:
Texas! Tyler Family Saga #1
Author:
Sandra Brown
Published:
December 30/08 by Random House Audio (first published 1990)
Length:
336pgs
Format:
audio CD
Genre:
contemporary romance
Shelf:
borrowed
Rating:
★★★★
Synopsis from Goodreads:
The first book in #1
New York Times
bestselling author Sandra Brown's beloved Texas! trilogy introduces readers to a close-knit family struggling to go on without its patriarch—and to a man in pursuit of an elusive woman who may hold his future in her hands.
Charismatic and easy on the eyes, Lucky Tyler is a born rebel. His romantic conquests have earned him his nickname, while his temper gives him his reputation as the family hothead. One night, he gets in a fight over a woman in distress, followed by a night of passion neither of them will soon forget. But the lady in question has a knack for disappearing. When news breaks of a suspicious fire at Tyler Drilling, Lucky is the prime suspect. Now the mystery woman is more than just the object of his obsession. She's his alibi.
Devon Haines has tried her best to escape Lucky. Yet his bold pursuit and self-assurance are irresistible. In order to clear him of criminal charges, she must reveal her darkest secret; withholding her help could cost him everything he holds dear. Either way, she risks losing him forever.
My Review:
There were times where this story was so emotional that it brought tears to my eyes. At other times I was laughing so hard my belly hurt. Brown had me caught up in this world in Texas, trying to figure out what really happened while at the same time hoping it will take a while so that the characters can work out their problems.
I love the way that Lucky was developed in this novel, and the story behind his nickname is absolutely priceless. He is the perfect roguish gentleman, the best of both worlds. The female lead took a bit of warming up to. She is a well-developed and likeable individual, but some of the choices that she made were a little skewed. The conflict between needs, desires, and morals is quite poignant here. Neither is content with the status quo but neither will break their code of ethics (too many times). It was a bittersweet thing to see.
As a whole this was a great read that really kept me coming back for more. Now, off to Chase's tale, and then Sage's.