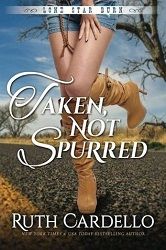 Title:
Taken, Not Spurred
Series:
Lone Star Burn #1
Author:
Ruth Cardello
Published:
September 23/14 by Montlake Romance
Length:
258pgs
Format:
ecopy
Genre:
contemporary romance
Shelf:
review
Rating:
★★★★★
Synopsis from Goodreads:
Previously published as
Gentling the Cowboy
, part of the Texan Nights series.
From
New York Times
and
USA Today
bestselling author Ruth Cardello comes the steamy debut to the Lone Star Burn series.
Would-be writer Sarah Dery has just turned twenty-five and feels like her life is on hold. She's done squat with her English degree and is just killing time working for her parents. So, when the opportunity to spend the summer working on a ranch in Texas comes her way, she jumps at the chance—figuring it might be just the jolt she needs to get her creative juices flowing.
Tony Carlton is a handsome and reclusive horse trainer with a tortured past and an eye for trouble, this time in the form of a naked blonde stranger he finds in his shower.
The wrong turn that led Sarah into the arms of this sexy, brooding cowboy turns out to be just what she needed to find her steamy inner voice, but will their connection be enough to break down Tony's defenses?
My Review:
I don't think I've laughed and cried so hard in quick succession. More than once I found myself exclaiming 'could you just imagine'. The realism that hits home so hard in this novel draws you to the story. Her in your face descriptions spark your imagination, causing it to go wild. Cardello combines tragedy with romance and throws in a large side of heat to create your dream story.
Cardello's characters are well and intricately developed, while still remaining somewhat mysterious and very human. The female lead's inner monologue is absolutely priceless. It's unwaveringly forward and really lets you get to know her. The male lead is so enmeshed in his past that he's almost unrecognizable. The hints and peeks at who he really is makes him endearing, and the kind of person you instinctively want to help.
As a whole this is a quick, easy read that I couldn't put down. It was the first work that I read by this author, but it won't be the last (nor will it be the last time I read this one).