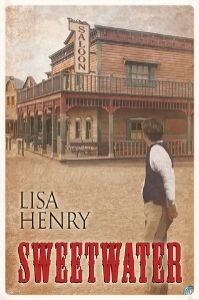 Title:
Sweetwater
Author:
Lisa Henry
Published:
Sept 29/14 by Riptide Publishing
Length:
240pgs
Format:
ecopy
Genre:
Historical m/m romance
Shelf:
netgalley
Rating:
★★★★★
Synopsis from Goodreads:
Wyoming Territory, 1870.
Elijah Carter is afflicted. Most of the townsfolk of South Pass City treat him as a simpleton because he's deaf, but that's not his only problem. Something in Elijah runs contrary to nature and to God. Something that Elijah desperately tries to keep hidden.
Harlan Crane, owner of the Empire saloon, knows Elijah for what he is—and for all the ungodly things he wants. But Crane isn't the only one. Grady Mullins desires Elijah too, but unlike Crane, he refuses to push the kid.
When violence shatters Elijah's world, he is caught between two very different men and two devastating urges: revenge, and despair. In a boomtown teetering on the edge of a bust, Elijah must face what it means to be a man in control of his own destiny, and choose a course that might end his life . . . or truly begin it for the very first time.
My Review:
Henry used the preconceptions of the time period in question to build an accurate yet very entertaining tale for her audience. Although creative liberty is expected in a work of fiction, the historical accuracy and Henry's attention to detail adds a sense of realism that really allows you to connect with and fall in love with this story. Her descriptions paint the scenes in graphic detail, giving the audience a sense of a virtual tour through the town.
I loved how Henry developed her characters. There is not a facet left unapproached. Don't get me wrong. You don't read the characters' bios, but rather, Henry develops them both inside and out. Getting to know their innermost thoughts on the events at hand not only sets the tone for the story, but allows you to connect with the characters in question.

This is one of the most real & raw stories I've read in a long time. I lived and breathed this novel while reading it. I couldn't put it down for a second. I, for one, cannot wait to read more of Henry's work.