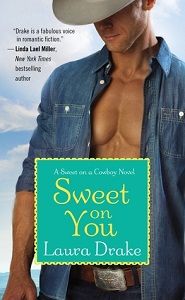 Title:
Sweet On You
Series:
Sweet On A Cowboy #3
Author:
Laura Drake
Published:
August 26/14 by Forever
Length:
384pgs
Format:
ecopy
Genre:
contemporary romance
Shelf:
netgalley
Rating:
★★★★★
Synopsis from Goodreads:
A Love as Bold as a Texas Sunset . . .
Ex-army medic Katya Smith has always healed other people's pain. Now she has to deal with her own. Taking a job as an athletic trainer on the Pro Bull Riding circuit seems like the perfect escape from her grief—except Katya doesn't know anything about bulls, and even less about the tough men who ride them. She doesn't expect to fall for the sport, or for one tantalizing cowboy who tumbles her defenses.
For rodeo champion Cam Cahill, fifteen years of bucking bulls have taken their toll on his body. Before he retires, he wants a final chance at the world title—and he doesn't need some New Age gypsy telling him how to do his job. But when the stunning trainer with the magical hands repairs more than his worn muscles, everything changes. Soon Cam finds himself trying to persuade Katya to forgive her past so she can build a future . . . with him.
My Review:
Talk about a clash of two worlds! PBR and Army combine in an absolutely stunning manner. I absolutely loved the outlook on rodeo from someone who's never been there. It was priceless and endearing. I killed myself laughing at some of the spot on explanations. I love the way that the author wraps up this story. I won't say much so I don't ruin it, but this approach works a million times better than an epilogue.
The characters definitely made this novel. Getting to know each of them individually, knowing where they came from and what they believe gives you an inside peek at their relationship. The main characters were extremely well developed without going overboard. I was absolutely floored by some of the traumas that they'd lived through. As realistic and possible as they were, they aren't everyday incidents. All aspects of their personas come together to create three-dimensional individuals to carry the story forward.
This was a fantastic novel. It's an easy entry point into the series and the world created by this author as well as a fantastic addition to an already established series. A parting word of advice, however. Don't read the last few chapters in public. Spontaneously gasping and bursting into tears will get you odd looks.