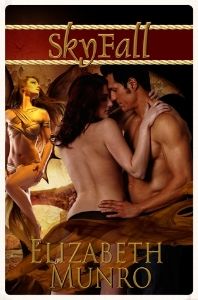 Title:
Skyfall
Series:
Taken on the Wing #2
Author:
Elizabeth Munro
Published:
June 6/14 by Blue Swell Books
Length:
312pgs
Format:
paperback
Genre:
paranormal romance
Shelf:
review
Rating:
★★★★★
Synopsis from Goodreads:
When Cloud is expelled from Master Sky's ranger training program, the last gryphon she expects to find at her den is her old lover Soar. Now she's the only gryphon with the skills to get inside a corrupt Calgary eyrie and Soar needs her in more ways than one. Cloud has little choice but to accept the mission. Success will get her back in Sky's good books but accepting Soar as her working partner will either heal her broken heart or ruin it completely.
Master Soar walked out of Cloud's life when her departure to the ranger program was inevitable. She was motivated, beautiful and too young to tie herself to someone like him. As much as it hurt, it was better to let her go. But when the Calgary eyrie is at the centre of a conspiracy to destroy his own, he's forced to play every card he has, including Cloud. When Cloud shuts him out and starts to operate on her own he has no choice but to go in after her, risking the entire mission to get the gryphon he loves out alive.
My Review:
Munro's graphic and wildly vivid descriptions make this story pop. Her in your face writing style is easy to follow and really draws you in. This fast paced and imaginative story had me hooked throughout. The intricate and well thought out storyline makes it impossible to forget. Munro's well developed concept of griffon & Eyre just add to the enchantment of the tale. The history and culture of these people captures your heart & imagination. Throw in some steamy romance and intense action and you have a brilliant winning tale.
I found myself falling completely in love with the male lead from this story. He was wildly protective and all alpha male at times, yet caring and self-sacrificing as well. The female lead was equally unique. Her strengths and weaknesses combined with her willingness to learn and accept made her very easy to love. Combined with the well-developed supporting Munro presents her readers with a group of unique individuals that you instinctively want to know more about, living in cultures that you can't help but be interested in.

As a whole, this was a uniquely brilliant tale that I fell in love with. My copy will definitely be dog-eared in short order with all of my re-reads. I'd highly recommend it to those who enjoy paranormal romance with something a bit different.