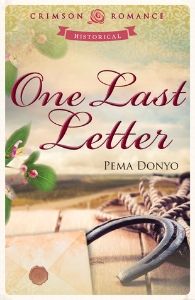 Title:
One Last Letter
Author:
Pema Donyo
Published:
August 18/14 by Crimson Romance
Length:
171pgs
Format:
ecopy
Genre:
historical romance
Shelf:
review
Rating:
★★★★
Synopsis from Goodreads:
A romantic hardened by reality…
Evelyn Lancaster turned her back on her love for ranch hand Jesse Greenwood when she was sixteen to pursue a career and marry into wealth that could save her father's struggling ranch. Now twenty-three, she works hard to keep the property afloat, but no suitor has stirred her heart the way Jesse did. After her father falls ill, she needs all the help she can get to keep the ranch running.

A cowboy returning to what he left behind…
After making his fortune, a newly wealthy Jesse has returned home to see his younger sister married. Still smarting from Evelyn's rejection, he finds the tables have turned, and now only his investment could save the ranch that he vowed to never step foot on again.

When he agrees to help her salvage her family legacy, they must overcome their pride and painful past to work together. As long-held emotions rekindle, Jesse pretends indifference, only to admit his true feelings in an unsigned letter left on Evelyn's porch.

Evelyn finds the missive and writes back, beginning a furtive correspondence. She dares to hope her mystery admirer is Jesse, but then another man comes forward to claim the letters as his own. Will one last letter give them the courage to say yes to love on the wild Texas plains?
My Review:
What a sweet novella. Donyo had my emotions rolled up in a bunch throughout. The subtle turmoil felt throughout the story really draws you to the plight of the characters. Social norms and preconceived notions add to the problems faced by the characters. Donyo takes this all and places it in the very real world of ranch life before combines and tractors take over. True romance and broken hearts take centre stage amongst the mended fences.
The characters that Donyo builds her story around are perfect for their part. She develops them in such a manner that you not only see how they came together, but how and why they made their decisions. The intertwining history between the two, as well as their separate pasts are plainly laid out bit by bit throughout the story.
As a whole this was a very sweet novel that nearly had me in tears more than once. I'd highly recommend it to those who enjoy historical romances that are all about the story, rather than the bedroom.